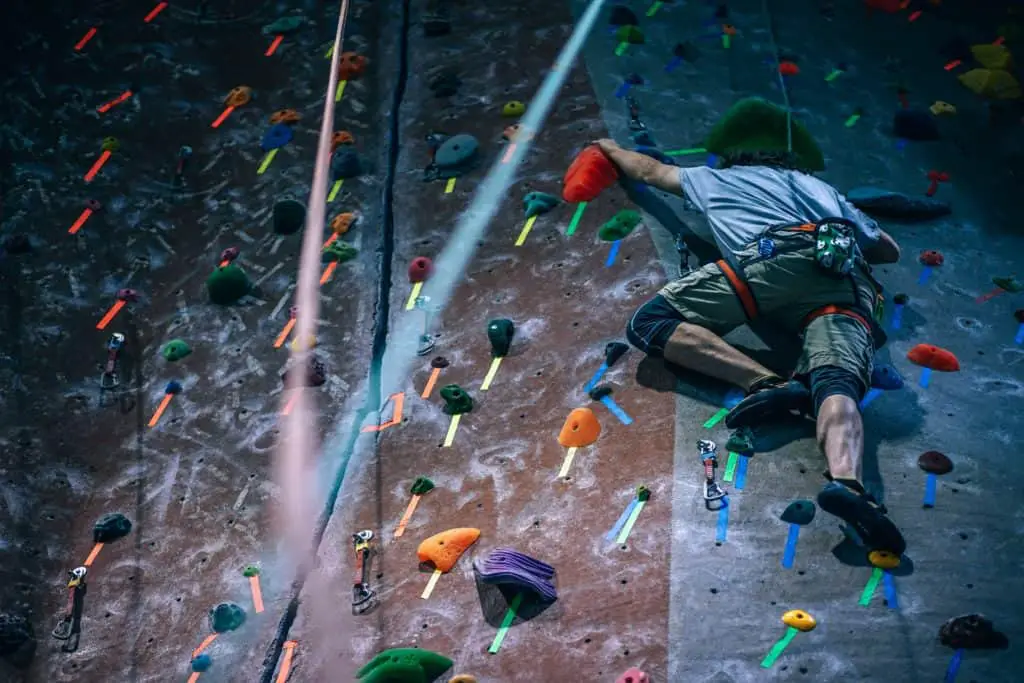 Before you start rock climbing as a hobby, you might have thought "is rock climbing expensive?" You may want to know the costs to buy all the needed equipment, and/or climb at your local indoor climbing gym. Luckily for you I've done all the groundwork for you and I've found an average total cost for those who wish to start rock climbing. In this article I'm going to break down the average cost of equipment, indoor gym rates, and other expenses that you may find helpful to know about.
So how much does rock climbing cost and is rock climbing expensive? For a typical climb at an indoor climbing gym, the average cost you will need to spend is around $10-$15 for a session and an average of $170 for a pair of decent climbing shoes if you want to have your own.
The average price of lead climbing with all the equipment needed is around $500 (or £400). This cost prices in equipment such as helmets and harnesses which aren't needed for bouldering; however crash mats are a must if you're bouldering outside.
The average cost of lead climbing includes climbing shoes (average $170), climbing helmet (average $100), climbing harness (average $50), chalk (average $10), carabiners (average $10), belay device (average $35), climbing ropes (average $100), chalk bag (average $15) and a chalk brush ($10).
The average cost of bouldering with all the equipment needed is around $400. This includes climbing shoes (average $170), chalk (average $10), chalk brush (average $10), chalk bag (average $15), and a climbing crash pad (average $200).
Some types of equipment will need replacing such as climbing shoes and chalk which is something you need to think about.
This, of course, is just a general run down of the equipment needed in two very popular, recreational climbing activities. We're going to get into a lot of detailed information throughout this article covering the equipment needed, local indoor climbing gym rates, and how different types of climbing can mean more or less money to spend. Read on for more information.
Page Jumps
Local Rock Climbing Gym Average Cost
A day pass for indoor climbing costs around $15 on average but you may also need to rent equipment once you're there if you don't have it already. Climbing shoe rental can cost an additional fee, usually around $5. If you're lead climbing you may also need to rent a harness, belay device, and rope which can add up to around $10 in total. Chalk bags can also be rented for around $2. You can of course buy all of these separately.
If you're bouldering at an indoor climbing gym, you'll only need to pay for the day pass and some rental shoes if you haven't got any of your own, which would total to around $20.
A lot of recreational climbers aren't looking to invest a lot of money into equipment, and they just want to climb at an indoor rock climbing gym for fun. If you're considering climbing as a regular activity you'll probably want to know the average cost to climb at an indoor climbing gym. This, of course, depends on what equipment you're renting out. If you need to rent all of the equipment above and also pay for a day pass then you're looking at around $30-$35 for a day of lead climbing at an indoor climbing gym.
Equipment Needed for Different Types of Climbing
Depending on the type of climbing you take part in you may want to buy different equipment. In most types of climbing you're going to need climbing shoes, but again you can buy climbing shoes for specific climbing types. You're also going to need chalk and a chalk bag to hold your chalk however if you're psicobloc climbing you'll probably want liquid chalk so you don't waste the chalk if you fall. Let's take a look at different types of climbing, and what equipment you may want to buy to enhance your experience.
Click the links to see what type of equipment I recommend for that specific type of climbing. Most of these links go to extensive articles I've written giving you the best value for your money.
Bouldering
You won't need ropes, harnesses and belay devices when you're bouldering. You'll need some climbing shoes suited to short routes, some other accessories and something to cushion your fall:
I've written a very detailed Bouldering 101 article if you'd like to check it out.
Lead Climbing
Lead climbing includes sport climbing, trad climbing and other similar types. You won't need a crash pad here as the rope should stop you from falling.
Belay device
Carabiners
Climbing rope
Psicobloc / Deep Water Soloing
Some climbers like to take chalk with them when they're deep water soloing, however if you fall your chalk's ruined. You might want to take liquid chalk instead. You'll also be better off climbing in synthetic shoes because leather ones are more likely to stretch, smell, and lose its dye after it's been in water. You'll need:
For a very detailed article on Deep Water Soloing click here.
The Cheapest Way to Rock Climb for Recreational Purposes
So you're finally thinking of taking on rock climbing as a recreational activity, but you want to do it as cheap as possible, and that's fine! What you have to note is that if you do buy the equipment you will have to replace some of it at some point – because climbing shoes, for example, don't last forever.
The cheapest way to rock climb long term is to buy a pair of durable climbing shoes and some crash pads and go bouldering outdoors at your nearest crag. Bouldering is a lot cheaper than most other types of climbing because it requires minimal equipment. Outdoor bouldering, however, may not be for you so if you'd like to indoor boulder you can save some money long term by just buying climbing shoes without the crash pads and pay for a day session at a climbing gym. This will cost you the average of $170 for climbing shoes, $10 for the chalk and $15 each session at the rock climbing gym. Over time you'll need more shoes – they can last between 6-24 months depending on how much you climb per week and their durability. Some climbing gyms also offer discounts when you buy sessions in bulk which can also save you money over time.
If you're not into bouldering then you can buy climbing shoes and rent out all the other equipment you need from your local indoor lead climbing gym. This is a little more expensive than bouldering as you have to rent out all the other equipment.
Find Your Favorite Type of Rock Climbing Before You Buy Equipment
Rock climbing can be quite expensive, so if you've started one form of rock climbing but you're considering trying a few other types then don't buy equipment until you know which type of climbing you're going to participate in consistently. For example, there are specific shoes for bouldering and sport climbing but if you're going to boulder and sport climb consistently then you may want to consider buying the very versatile La Sportiva Miura climbing shoes; however if you're only going to boulder then the Scarpa Instinct VS shoes might suit you much better. The trick is to find out which type of climbing you prefer before you waste money on equipment which may not suit your needs. I would also consider doing research for each bit of equipment you buy so you can get the best deal.
How to Lessen Rock Climbing Costs
If you're trying to keep your costs low when it comes to rock climbing there's one simple solution. Buy durable equipment, take care of it, and (if possible) climb outside. Climbing outside is usually free and won't cost you around $15 in day session fees. Buying durable equipment will save you costs long term. Bouldering is probably the cheapest type of rock climbing due to the lack of equipment needed over time. Chalk needs to be replaced often in most climbing types, but it's relatively cheap; whereas crash pads are usually a one-off buy that will last you a very long time. Climbing shoes can last you up to 2 years depending on their durability and the way you treat them.
By climbing outside, buying durable equipment, treating your equipment well and by bouldering rather than participate in other types of rock climbing, you can lessen your climbing costs dramatically over time.
I would I check out my Recommend Gear page for the best value for money equipment you can buy.
Health Costs You May Want to Add to Boost Your Climbing Experience
When you participate in most sports, especially climbing, you're more likely to get injuries. Improving your health and body through different means can be very good for your lifestyle and climbing experience, however it can hit your bank balance with brute force. I've listed a few things you can buy that may help you regarding your rock climbing health.
Osteopathy
Osteopathy can be quite expensive, usually ranging for $60-$80 per session; however it can help your joints recover and relieve stress in muscles, ligaments, tendons and joints. Every now and then I have an osteopath look at my cervical spine because of my injured neck. It relieves the tension in the area and is much less painful overall a couple of days afterwards. Benefits of osteopathy aren't just physical (such as joint injuries) but may also help invisible injuries such as headaches. Osteopathy can help treat:
Arthritis
Joint pain
Spinal pain (back and neck)
Sciatica
Headaches
Tennis/golfer's elbow
Posture problems
Neuralgia
Sleep problems
Climbing may affect your posture, joints, spine and other parts of your body. You should note that if you do end up climbing that it may be a good idea to have an osteopath help treat these ailments, therefore incurring an extra cost.
Sports Massage / Deep Tissue Massage
I get a sports massage around once a month these days because it's just so good at relieving the stresses of life and also keeping my back muscles flexible. I also used to get an injury in just one spot on my mid-back, however ever since I've been getting deep tissue massages it just doesn't seem to reappear. Sports massages may feel very painful at the time because the masseuse is working deep inside your muscles getting right into the tissue, however it's so worth it a few days after once you feel the relief. A sports massage costs around $40-$60 on average.
The benefits of a sports massage are:
Increased muscle recovery (from DOMS and injuries) due to blood circulation around a specific spot
Increased relaxation
Releases muscle tension by making your muscle tissue more flexible
Reduces pain within most parts of the body even if the massage is directed towards the back area
Helps support good posture by increasing the range of motion of your back muscles
Increases overall muscle flexibility/mobility
Climbing pretty much affects most of the bullet points listed, so therefore a sports massage every month or two can really help your climbing experience.
Vitamin and Nutrition Supplements
Climbing requires a certain amount of general nutrition for your diet and you may need to supplement these if you aren't getting enough of a certain vitamin or mineral. You're obviously using your joints, muscles, ligaments and tendons a lot so you'll need a good amount of calcium, magnesium, protein and other vitamins, minerals and nutrition in your diet so you aren't as likely to injure yourself. Keeping your body healthy with supplements is also a good way to make sure your body can recover properly after each session.
If you're getting enough of these in your diet anyway, you won't need to add supplements to it and therefore there's no need to add an extra cost. However, if your diet doesn't contain enough of a certain vitamin/mineral you might want to buy some supplements to help your rock climbing experience.
Health Insurance
Whether you're based in the UK or the USA, you should consider getting health insurance that will cover any climbing related injuries. This is an extra cost but if you do get a serious injury of some kind (a break or ligament tear) you'll need good enough health care which will provide you with the help you need to heal.
One-on-One Rock Climbing Coaching Costs
Having a personal rock climbing coach can cost up to $70 an hour, usually decreasing if you were to buy a number of sessions in bulk.
The question here is, is personal coaching for rock climbing worth it? Well, it depends on the coach, how fast YOU learn, and it depends on how much money you have, really. If you have a really good coach then they can help you learn extremely fast as long as you're capable, but it still might cost you around $550 for 10 sessions all 1 hour long (if you buy them in bulk). If you have the money and you're willing to part with it to gain knowledge and experience from a GOOD climbing coach then that's completely up to you. However, a lot of the best climbers in the world have never had a personal coach – but I suppose they may have not had a busy schedule and just climb all day every day. Again, it's completely up to you to decide.
Related Questions
How much does a rock climbing wall cost? A rock climbing wall costs between $25-$40 per square foot to build depending on the type of board and the holds used.
How much does rock climbing equipment cost? For lead climbing you're looking to spend around $420 (approximately £320) for all the equipment needed. For bouldering you're looking to spend around $400 (approximately £310) for all the equipment needed – this includes crash pads for outdoor bouldering use.