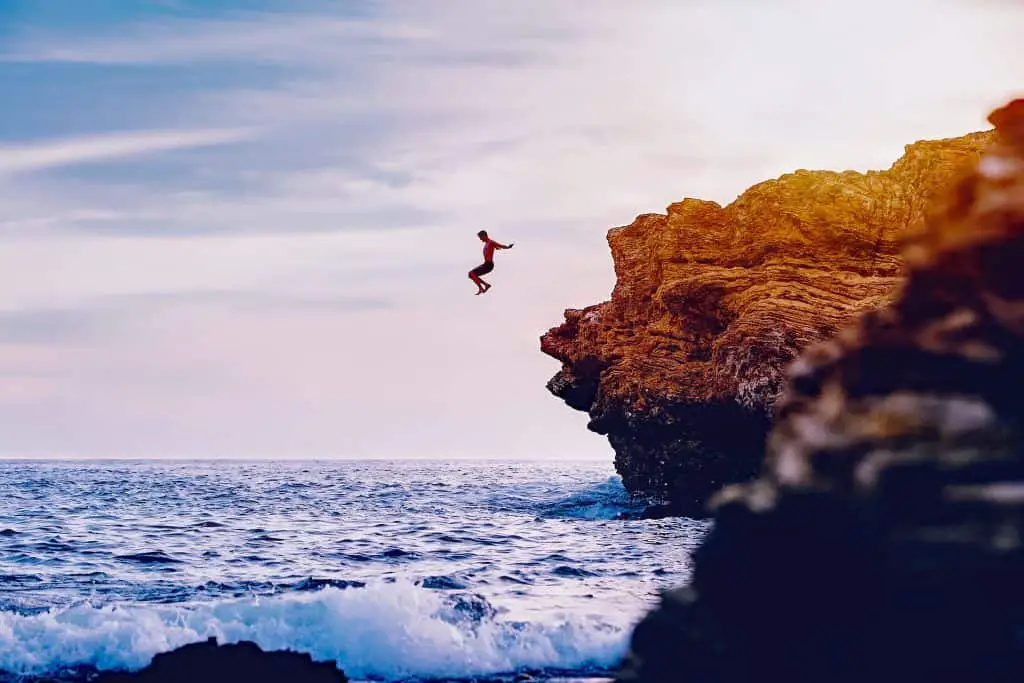 Deep water soloing, aka psicobloc is becoming more popular these days because climbers are finding more and more places to enjoy this unique activity and it's getting a lot more recognition. In this article we're going to cover all of the different topics about deep water soloing which will hopefully answer any questions that you may have. If you're a seasoned vet at bouldering or lead climbing, DWS is a different activity because there are different things to think about. We'll be covering when the best time to go psicobloc climbing is, manmade areas, the types of equipment you'll need, deep water soloing safety, areas around that world that are known for deep water soloing and more.
So what is deep water soloing? Deep water soloing or psicobloc climbing is the act of venturing to a rockface (usually by boat) with the intention of climbing it, knowing that if you fall you have a cushion of deep water below. It's basically free soloing, but if you fall then you'll fall directly into water. There are manmade psicobloc walls which are basically climbing walls above swimming pools, some of which are also known to have yearly tournaments. As with most types of climbing, there are hazards with deep water soloing that are completely different to most other types of climbing, for example drowning. You'll want the weather to be nice and the water to be warm.
Page Jumps
What is Deep Water Soloing aka Psicobloc
Deep water soloing is a type of free solo rock climbing where you climb a large rock face, however if you were to fall you'd be falling into a pool of deep water to protect yourself from injuries. DWS is known to have been around since the 1970s when a climber named Miguel Riera and a few of his climbing friends were noticing that the popular bouldering spots in Majorca were overcrowded so they found a new activity and place to solo climb. It didn't then become "popular" until the 2000s.
Usually the routes climbed when DWS are graded at quite a high difficulty. Deep water soloing can be practised outside usually on sea cliffs, above reservoirs, above rivers, or on manmade climbing walls above swimming pools that are scattered around the world. These manmade areas are known as psicobloc climbing. As more and more people are entering psicobloc tournaments and more tournaments are being created, it's quite obvious that the popularity for deep water soloing is growing worldwide.
Although deep water soloing sounds relatively safe, climbers that take part in this activity are known as daredevils. Climbers that take this risk know that they aren't anchored to the wall with a rope and that if they fall they could be falling over 100 feet high into a body of water below. There are many safety precautions to take if/when you fall because injuries (or even death) is not uncommon, but we'll get into that later on in this article.
Not only is the activity of deep water soloing an adrenaline rush in itself, but being a part of it can take you to areas that the normal public would never have even thought of. The sights you can see around you while climbing or making your way to the rock face on the boat or dinghy can be things of beauty. Not only that but the thing about deep water soloing compared to bouldering or normal free climbing is that you'll often hear the sound of the water lapping which is a relaxing sound while you're climbing and can really give you that sense of mindfulness. If you're into travelling, you like the outdoors, and you like an adrenaline rush then this could be the perfect activity for you.
Deep Water Soloing Safety
When deep water soloing, safety should be your first priority. It might look as if DWS is completely harmless… I mean, if you fall you'll land in the water and be fine right? Well, that's not entirely trust. There are many potential hazards that can result in horrible injuries or even worse, death. But that's pretty much the same in any type of climbing if you don't take the time to make sure you're practising the sport safely.
Potential Hazards
So what hazards are there when you deep water solo? Drowning is the main hazard. You need to be able to swim in deep water – this is a must. Make sure that if you're DWS you're doing it in the right temperature because you can actually put your body in cold water shock if the water is below 70°F (21°C). When your body goes into cold water shock you breathe at an uncontrollably fast rate which can make you panic, faint or even choke on the water.
Other hazards are mainly to do with objects in the way, such as parts of the rock face that may interfere with your fall and hit you on the body part on the way down. If you hit your head and enter the water then you're likely going to be unconscious and drown. This is why it's always a good idea to DWS in a group of people. If you have a boat then make sure it's not within the fall zone.
A body part may also becoming trapped by a crack in the rock or by a tree branch on the rock. If you enter the water the wrong way you can also suffer a burst ear drum depending on the velocity of your fall.
Precautions You Can Take
So what precautions should you take before you start deep water soloing in a specific area? Obviously, it goes without being said that you need to know how to swim. Make sure nothing is in the way of your landing. You don't want any boats in the way, and rocks or any other natural debris should be completely out of sight. Make sure that the water below is AT LEAST 10 feet deep and that any rocks under the surface of the water aren't in the fall zone.
If you fall you need to make sure you enter the water correctly. The best way to fall ensuring that you have as little problems as possible is called the "Coffin Entry" – not because you'll need one after you've entered the water but because of the shape your body takes to absorb the fall. This is where your feet enter the water first and your arms are by your side. Try to keep your body as straight as possible and don't look down – even the slightest glance down can tip your body forwards which results in a less than vertical entry which can injure your ears, eyes, face or nose.
Go deep water soloing with at least one other person and make sure you both know how to use the first aid kit that you should inevitably bring with you. It's better to have it and not need it than need it and not have it.
Remember that the higher you climb, the velocity of your fall will be greater which means your fall will be harder. So if you are climbing high then you NEED to know how to fall from great heights perfectly.
So to reiterate this section:
Make sure you know how to swim in deep water.
Make sure no boats, debris or rocks are in the fall zone.
Make sure the water is over 10 feet deep.
Enter the water with the "Coffin Entry". Do not look down as you fall.
Bring at least one other person with you.
Bring a first aid kit and understand how to use it.
Understand that the higher you climb the harder your fall will be.
Sea Level Traversing
If you want to go deep water soloing but you're not too sure you're ready  to climb great heights, there's always sea level traversing. The great thing about sea level traversing is that you have the experience of practising deep water soloing but if you fall you'll only have a short way to go. This is the most safe way of going about your deep water solo experience, but for most climbers it's the least satisfying.
Deep Water Soloing Areas Around the World
If you're thinking "where can I solo deep water?" then you've come to the right place. Here is a list of just some of the most well-known or best areas in the world for deep water soloing.
Majorca was the supposed birthplace of deep water soloing and has many spots on the East side of the island. If you are thinking about taking a trip to Majorca to deep water solo then you'll want to book your flights between July and October for the hot weather and warm water. It is a favorite spot of one of the best and most famous climbers in the world, Chris Sharma, who has completed most of the difficult routes in that region. The routes in this region are famed for their high difficulty due to the finger strength needed. Don't even think about coming here unless you're climbing at a grade of 6a or more. One of the most famous deep water solo lines is called "King Line" in Majorca, which is also one of the hardest climbs in the world.
Malta has an area called the Blue Grotto which lies on the south-east of the island. There are a number of sea caverns here ready to climb and explore.
Tonsai Beach, Thailand is a fantastic area to deep water solo. Your best bet is to rent a boat from one boatmen directly and tell them exactly what you're doing and where you're going. You need a high tide.
Dorset, United Kingdom is home to Lulworth Cove and Conner Cove, andis the most well-known place in the UK for its deep water soloing capabilities. In the Summer the water's warm and the weather's usually good because it's pretty much the most South you can get in the UK other than Cornwall and Plymouth.
Lake Powell, Utah is a great place to start for anyone in the US. There are countless numbers of routes that are ready to be sent by climbers of all levels. Do not think about bolting anything to this wall as it's not allowed, however you have 2000 miles worth of rockface to choose from so you can deep water solo to your heart's content once you've found your perfect spot. You can also rent a boat to get the most out of your time there.
South Point, Hawaii has plenty of routes to have a go at, most of which are over deep water.
Jackson County, Illinois is where climbers venture to the Kincaid Lake which has a sandstone rockface that's 500 feet long and over 60 feet high. You can access the rockface by boat or walk down a trail however it is only advised that more advanced climbers try out this deep water soloing area.
Lake Travis, Austin Texas is home to limestone cliffs where deep water soloing is great for climbers of all grades whether you're a beginner, intermediate or more advanced. A boat is a must in this area but it's worth it because this is known as one of the best deep water soloing locations in the US.
Summersville Lake, West Virginia has sandstone routes for novices and experts and a boat is a must if you want to get the best out of this place. But it will be worth it because it's a great place to deep water solo climb.
Turkey has a few areas in Olympos for deep water soloing. Olympos was one of the areas that was host for the Petzl RocTrip 2014 tournament. All you'll need is a boat to get there.
Ka'anapali, Maui has deep water soloing for climbers of all grades. The routes are on black rock beach and cater to beginners and more advanced climbers. This is also a great place to go sightseeing.
Artificial Psicobloc Walls and Competitions Around the World
There are a few different artificial deep water solo walls in the world. Competitions are usually held every year and have hundreds of fans in the audience. The first ever artificial psicobloc competition was held in Bilbao, Spain in 2010. The Psicobloc Masters Series is a deep water solo competition which is held every year. There's a cash prize at the end for the winner. In 2018 the prize was $20,000 and it was held at the Olympic Park in Utah. The Psicobloc Masters Series is usually held at this venue.
Even more recently there has been a deep water soloing competition in Marseille in 2019.
There are also other independent competitions for deep water soloing such as the Deep Water Solo Tuck Fest.
It's quite hard to find artificial psicobloc walls but if you'd like to visit Thailand you might want to take a trip to the REBEL psicobloc climbing wall.
Advised Climbing Equipment for Deep Water Soloing
The good thing about deep water soloing is that you don't really need much equipment. You could get going with some rock climbing shoes and some chalk but I would advise that you consider bringing a bit more than that. You won't need any crash pads because obviously you'll be falling in water and don't forget to wear clothes you're happy with getting wet. You won't need any ropes, any carabiners, harnesses etc, however you CAN bring a helmet if you like but the majority of climbers don't. Now let's talk about climbing shoes and chalk.
First of all, prepare to get wet. You're going to need some climbing shoes that can handle water. This is why the rock climbing shoes for deep water soloing that I'd go for would have primarily synthetic materials instead of leather. Leather stretches when it's wet, plus it takes a lot longer to dry than synthetics. An example of a typical pair of rock climbing shoes for deep water soloing are the La Sportiva Oxygyms because they're fully synthetic and can be machine washed.
Secondly, advising on what chalk to bring or how to administer it is quite tricky. Some people bring 20+ chalk bags with them with small amounts of chalk in, because they know that once they're in the water that bag is now useless until it's dry again. Others bring liquid chalk with them apply it to the inside of their thighs or on their forearm so they can reapply it halfway through their climb when/if needed. This can also be done with normal chalk if you don't like liquid chalk and don't want to risk ruining your chalk bags. Then of course there are the purists who believe you shouldn't use chalk when deep water soloing as it's all part of the experience.
A first aid kit and a means of communication (for example a cell phone or flare gun) are a must. Accidents happen and you don't want to be caught out in a body of water while being highly injured.
Obviously, if you're going to falling into water you'll also want to bring a towel with you and a change of clothes. If the Sun's out and the weathers hot you might want to think about climbing is a t shirt and shorts while lathering yourself up with sunscreen.
Related Questions
How did Miguel Riera die? Miguel Riera died from lung cancer at the age of 56.
Is deep water soloing dangerous? It can be, but this depends on the safety precautions you take and the height you climb.
Can climbing shoes get wet? Climbing shoes are fine if they get wet, but it's best to wear shoes with synthetic tops because leather stretches.
How do you pronounce Psicobloc? Sy – Co – Block
What does Psicobloc mean? Psicobloc is Spanish for Psycho Pad.