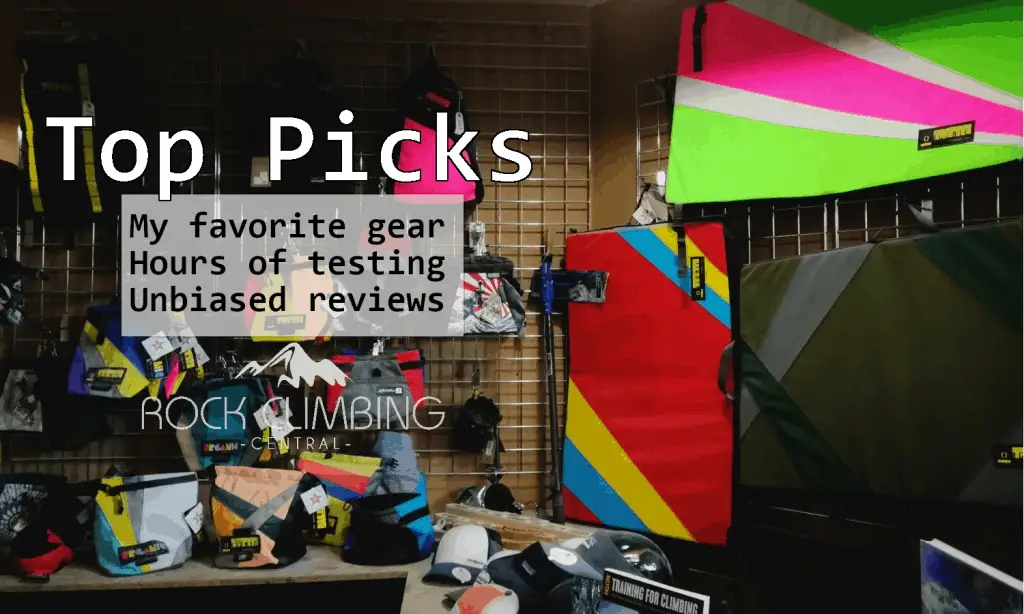 Throughout my time climbing, I have spent countless hours researching and using climbing products. I have tested and researched about different gear and have found my personal favorites. I do my best to choose items that are priced reasonably, but are still high-quality! Any gear I recommend is of high-quality but is also affordable for the average person. I trust these products enough that I would recommend them to my closest of friends.
My Recommendations – Click the Images to Find out More
Now, if you're a bit of a beginner I've made you a couple of checklists. You're here to not only find out the best rock climbing gear but also what you need to get started. Now, you don't technically need all this stuff however I do recommend most of it, so I'm going to leave a little note by each item to help you. One checklist is for a climber who primarily boulders (you'll need less equipment). The other checklist will get you started roped climbing for around $400-$450.
Rock Climbing Gear You Need When Bouldering
Climbing shoes – Needed
Chalk and Chalk bucket – Highly Recommended
Crash pads – Needed if bouldering outside
Hangboard – Highly Recommended if you want to progress fast
Rock Climbing Gear You Need When Lead Climbing
Climbing shoes – Needed
Chalk and Chalk bag – Highly Recommended
Rope – Recommended as you progress
Harness – Highly Recommended
Helmet – Highly Recommended for climbing outdoors
Belay device (such as an ATC or gri gri) – Highly Recommended
Sling – Recommended as you progress
2+ Screw Carabiners – Highly Recommended
Climbing Pack – Recommended as you progress
Rappel Gloves – Recommended as you progress
Hangboard – Highly Recommended if you want to progress fast
Rock Climbing Accessories
Chalk Brush – Recommended
Finger Tape – Recommended if you are prone to finger injuries
Skin Repair – Recommended as you progress