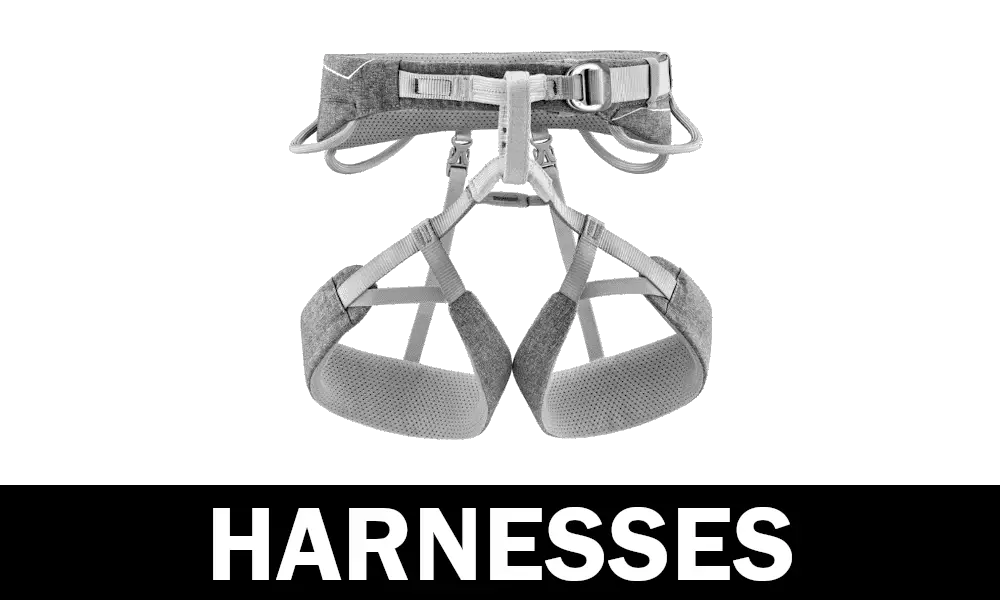 It's important you get the best climbing harness because, unless you boulder most of the time, you'll be using it just as much as your climbing shoes. I've taken a lot of time deciding my top picks for the best climbing harnesses, testing many over the years that I've climbed. I've also had detailed reviews from friends in my climbing group about their own harnesses, and I've taken these reviews into account for this article.
My Top Picks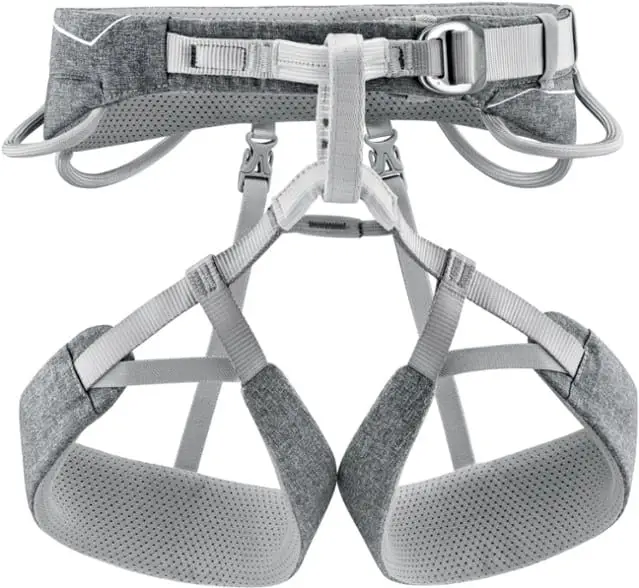 Best Value Climbing Harness for Men
Petzl Sama
It seems clear as day to me that the Petzl Sama is without a doubt the best value for money climbing harness out there at the moment for all around climbing. It's upgraded itself from the old design that was already up there with the best to be an even better harness. Whatever type of roped climbing you're undertaking, this harness will most likely do the job well. It's my go to harness on the crag or in the gym. I wouldn't say it's the best harness for any particular type of climbing, but as an all-round climbing harness it is by far the best.
I'm very impressed at how comfortable this harness is when you're hanging on the wall. Usually, harnesses are tight or you find straps digging into places on your body but, other than the odd time, I don't really have any problem at all with the Petzl Sama. There's a lot more padding on this harness than you first realise which you'd think would give you less mobility but I can't say I've noticed. Personally, I feel more uncomfortable when I'm standing around on the ground with a harness on because I'm not focusing on climbing, so I actually felt more uncomfortable with this harness while I wasn't climbing. Generally harnesses seem to restrict at least some movement but the fixed, elastic leg loops allow you to manoeuver very easily from foot hold to foot hold without any real problem. I've also had my harness for around 2 and a half years now and have had no problems with its durability.
The gear loops on this harness are another feature that I really enjoy. Your equipment fits really nicely in the front gear loops that are very roomy, enough to fit all the gear you'd need on the wall whether you're sport or trad climbing. There are also some gear loops on the back as well which carry any essentials you'll need on long routes. And while some harnesses don't come with a haul loop, this one comes with a large one.
A couple of things – no harness is ever going to be perfect (although this is the closest I've found). I would say, however, that this harness isn't going to be of use for ice climbers as there's no ice clipper slots and the leg loops aren't adjustable. Also, it weighs 14.6oz (415g) which is heavier than most harnesses (probably because of all the padding), so you'll be pulling that weight up with you as you climb.
Last but not least, this harness isn't exactly expensive. It's just as cheap as most of the other reputable harnesses on the market but it's just that much better.
Best Value Climbing Harness for Women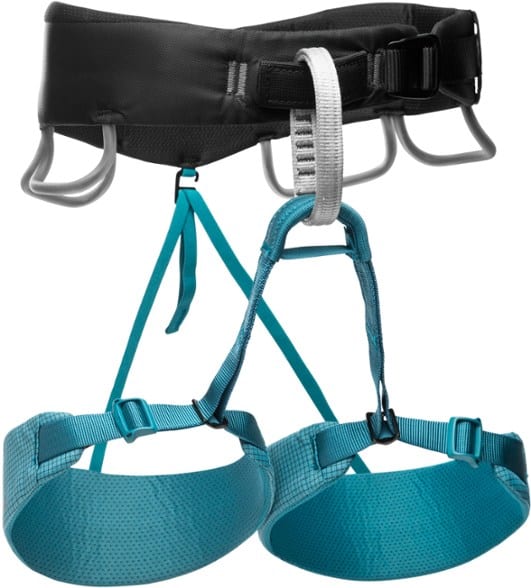 Black Diamond Momentum
I'm not a woman, however I've spoken to a few over the years about harnesses and done a bit of research myself and it seems that the Black Diamond Momentum harness is the best value for money harness on the market today. It's very versatile, has adjustable leg loops that still gives you the security you need to feel when you're on the wall, and it's very affordable. The gear loops on the front are plastic covered, and give you a very fluid climbing experience because they stick out enough for you to easily clip and unclip. Not only that but this harness comes with a haul loop. The belay loop is a nice bright color compared to all the other loops so you can't miss it when clipping and unclipping.
In terms of comfort, the waistbelt is nicely padded giving you comfortable hang from the wall. However, this does make for a bit on sweat on the mid-back during hot days. I have heard no problems about this harnesses durability.
All in all, for the price, comfort and features, this harness seems to be the best value.
What Makes a Good Climbing Harness?
Climbing harnesses depend on different attributes to determine how much we value them. These are:
Comfort
Features (gear loops, haul loops, ice clipper slots, buckle systems)
Durability
Weight
Adjustable or fixed leg loops
Different Types of Climbing Harness
Climbing harnesses are usually made for specific types of climbing. For example, lightweight harnesses are usually dedicated to ice climbing and mountaineering due to the long hikes. Some climbing harnesses such as the ones mentioned in this article are made for pretty much all-round climbing and try to incorporate features that will suit nearly every need.
Are Fixed or Adjustable Leg Loops Better?
The question about fixed or adjustable leg loops being better is always in discussion but it seems to be all opinion.
Fixed leg loops do not require you to adjust your leg loops or loosen your buckle every time you take off or put on your harness. Instead they are designed with elastic instead of a buckle usually making the harness lighter.
Adjustable leg loops let the climber loosen or tighten the loops to their own needs. If you're wearing a lot of clothes (for example in ice climbing or mountaineering because of the cold weather), then adjustable leg loops would probably be more beneficial. If you're big into squats and deadlifts and have massive thighs then you also might want to think about adjustable leg loops. If you would prefer adjustable leg loops then my pick would be the Elderid Jay III Harness. It's inexpensive, very comfortable, and has enough room in the gear loops for a lot of equipment.