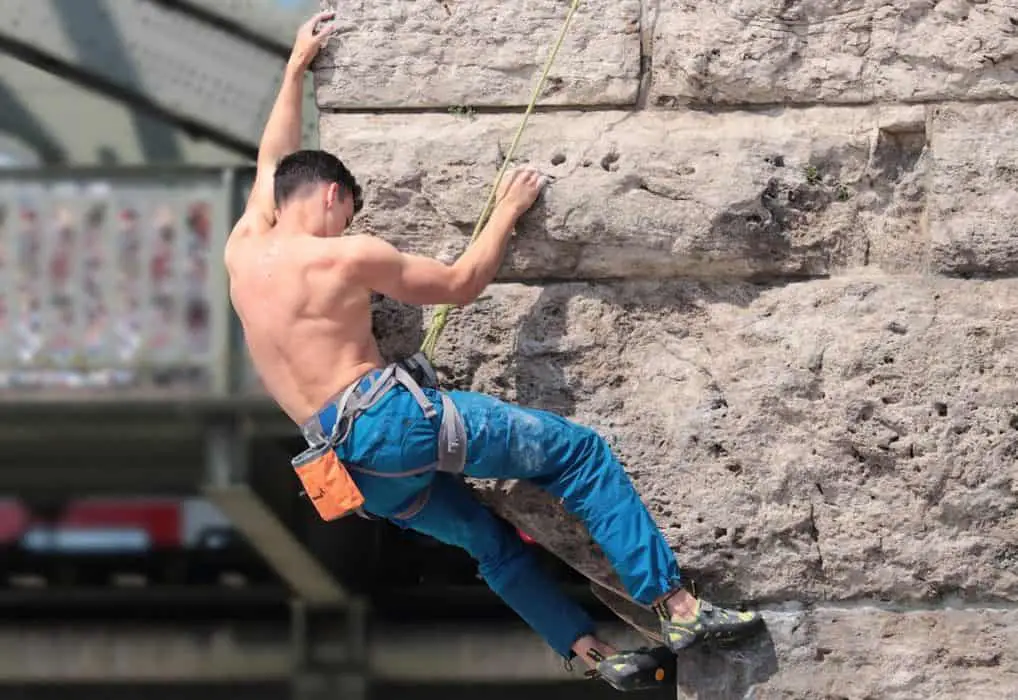 In today's modern world there are different ways to become "famous". From Instagram to Youtube, you can develop a following by providing content that others find interesting or in some way appealing. There will be a few climbers mentioned here from the social media generation of today and some from a time before social media. Here you'll find a list of the most famous rock climbers of all time in my opinion. I will also include some of the best rock climbers of all time in this article (again in my opinion), and when I do it will be mentioned in their brief biography. Once you've read this article you might want to check out the Best Competition Climbers of 2020.
Unlike some sports like soccer, basketball, and others, climbing only has 1 or 2 big stars that are known to people who aren't involved in the climbing community. Pretty much everyone in the western world knows who Cristiano Ronaldo and LeBron James are, but if you ask someone whether they know who Alex Honnold is and (unless they're a climber) it's likely they won't.
This is why I've written this post. I want to give people an idea of who the most famous rock climbers ever are and why. Where are these people from and what have they accomplished? What are they famous for? Let's find out.
Page Jumps
Alex Honnold
It's hard to talk about rock climbers without mentioning Alex Honnold. He's definitely the biggest climbing star of any time period and is known for his spectacular free solo climbs, however Honnold estimates that only around 5% of his ascents are free solo. While climbing free solo, he listens mostly to rock and punk and only turns the music off for more difficult problems. He says he's never been scared of dying while free soloing, that's not to say he's never been scared of death however.
Born in California, Alex Honnold likes to spend most of his time climbing in Yosemite Valley and the Nevada mountains. However, as Honnold lives in a van most of the time, he could be anywhere as long as "the weather is good". Although he doesn't like living in a van, he likes the freedom of knowing he can live anywhere he wants.
Honnold has appeared in multiple films, his most notable being "Free Solo" (2018). "Free Solo" was a film that focused on Honnold's ascent of "El Capitan", a rock face measuring around 3,000 feet high, made of granite. Climbing "El Capitan" was a childhood dream of his and at 32, he finally decided to go for it. He's the first person (and currently the only person) to ever successfully free solo this route with an ascent time of 3 hours and 56 minutes. The film has currently won 2 awards: Best Documentary Feature at the 2019 Academy Awards and the Award for Best Documentary at the 2019 BAFTAs. Alex has also co-authored a book with David Roberts called "Alone on the Wall: Alex Honnold and the Ultimate Limits of Adventure" (link to Amazon).
Honnold has also been the focus of many seminars and podcasts, and has been on TV shows telling his stories which have motivated, inspired, and shocked listeners and watchers from around the world.
He also holds the world record for the fastest ever ascent on the "Yosemite Triple Crown" which lasted 18 hours and 50 minutes. The "Yosemite Triple Crown" is a link of three different routes: "Mount Watkins", "The Nose" and the "Regular Northwest Face of Half Dome". He holds many other free solo/climbing world records as well.
Alex is a vegetarian, an atheist, a feminist, and he's straight edge (he doesn't consume alcohol or any other drugs). Before ascending "El Capitan", Alex changed his diet to almost vegan, however he still included eggs, and he also banned himself from having desserts.
You can find Alex Honnold on Instagram under the handle @alexhonnold
Chris Sharma
Chris Sharma was once thought as the world's best rock climber due to his extraordinary first ascents and general climbing ability. Raised in Santa Cruz, California, Sharma started climbing when he was just 12 years old. Just two years later at 14 years old, Sharma won the Bouldering Nationals. At 15 years old he completed the highest graded climb in North America at that point in time – an ascent named "Necessary Evil" rated at 8c+. Since then Sharma has been known to redpoint routes rated at 9b, 9b+ and 9a+.
Chris had problems with a particular route named "La Dura Dura" (Spanish for "The Hard Hard") and spent a lot of time trying to complete it.He was trying out different moves and techniques but couldn't imagine actually linking them up on the wall. Each move was so hard on their own that the thought of putting them together seemed impossible. He eventually resigned to the fact that the climb probably wasn't for him. After giving up on the ascent, he started climbing with Adam Ondra, another outstanding climber (probably the best rock climber in the world today). Sharma helped Ondra on other routes and gave him advice.After working jointly with Ondra on a few routes, working harder on his climbing than he had done in a long time, Sharma was taken aback by Ondra's talent, motivation and passion for the sport. This made Sharma mention "La Dura Dura" to Ondra, saying it was the perfect route to take his climbing to the next level. From here the two of them teamed up to complete "La Dura Dura", sharing the beta while also competing to be the first to redpoint the climb. Chris started to get excited as he watched Adam link up some of the moves he previously thought were impossible. He also realized just how fun it was to share beta on an extremely hard climb with another exceptional climber. Eventually, Sharma started to link up some of the moves better than Ondra. However one day Sharma took a rest day and, although feeling incredibly weak from climbing the day before, Ondra decided to give "La Dura Dura" another go. He completed the climb, saying that although he didn't feel his best physically, the lack of worries and doubt plaguing his mind were the driving force behind his success on this particular climb. This spurred Chris on to complete "La Dura Dura". He eventually completed La Dura Dura in 2013 around a month before his 32nd birthday.
In 2013, Sharma partnered with his sponsor Walltopia and together they opened a rock climbing gym in California called Sender One Climbing.  Since moving to Barcelona in Spain, Sharma has completed many of the hardest climbs in the Catalonia region. He has also opened a climbing gym in his city of residence in 2015 called the Sharma Climbing BCN. He plans to open another this year in Madrid, claiming that it's going to be Europe's largest indoor rock climbing gym.
Sharma has been involved in at least 21 films, including "Into the Light", "Point Break", "King Lines", and "Above The Sea".
You can find Chris Sharma on Instagram under the handle @chris_sharma
Adam Ondra
As mentioned above in the section about Chris Sharma, Czech-born Adam Ondra is probably the best rock climber in the world today. Ondra is still quite young, being born in February 1993 – at the time of writing he's 26 years old. At 8 years old Ondra was already onsighting 7b+ routes. By the age of 13 he had redpointed his first 9a. He's famous for his grunting and growling on techniques and moves that he finds difficult exuding a fierce aggression on the wall and showing the emotion he applies to every single transition. He seems to have an extraordinary focus on the task at hand. If Ondra falls off the climbing wall you can hear the passion and anger in his voice – he lets out roars, curses and screams due to his failure. This reveals his passion and drive to succeed which is probably why he's the best in the world. Although he may not look the part being lanky, skinny, and lacking a lot of visible muscle, Ondra is deceptively strong when he's on a climbing wall.
Ondra is not only a multiple time World Cup winner in lead climbing, bouldering, and a combination of both, but he has also won multiple Golds, Silver, and Bronze medals at the World Championships. He holds the first ascent for redpointing the world's first ever 9c called "Silence". He also holds the first ascent for redpointing "La Dura Dura", "Vasil Vasil", and "Change" which are all rated 9b+. There is no wonder why most people who know anything about climbing consider him to be the world's best climber today.
You can find Adam Ondra on Instagram under the handle @adam.ondra
Peter Croft
Peter Croft is a Canadian rock climber who has written many books about the different ascents he's sent around the world. Not only has he been a successful author on the subject of climbing, he's also completed a large amount of "First Ascents" including in free solo climbing. Many of these first ascents are within the High Sierra region. Croft has actually written a book dedicated to rock climbing in High Sierra entitled "The Good, the Great, and the Awesome: The Top 40 High Sierra Rock Climbs."
Funnily enough, Croft never actually wanted to rock climb originally. He considered it a sport that was out of his league. It wasn't until he read the book "I Chose to Climb" by Chris Bonnington that he realized he had to at least give it a shot. Croft has been the leader of many "Climbing Clinics" around indoor climbing gyms, events, and outdoor ascents where he gives advice and climbs with climbers and fans.
He considers linking the two ascents in Yosemite Valley called "The Nose" and "Half Dome" to be his favorite all time climb especially because he shared the experience with his hero John Bachar. He also has a fondness for Charakusa Valley in Pakistan – he believes it's similar to Yosemite Valley if Yosemite were to be topped by ice faces and needle sharp summits.
Croft believes that Chris Sharma is a good face for the sport of climbing because he's a good guy and a great climber andhe believes that Beth Rodden is the most admirable female climber. Croft likes climbers who are in it for the love of climbing and doesn't like climbers who toot their own horn.
Dan Osman
Dan Osman was one of the first extreme sport practitioners to bring sports such as free soloing and rope jumping to the mainstream eye. He lived in California working as a part-time carpenter. People often asked him if he had a death wish, but he replied that he had a life wish – he wanted to truly live. Some people believe that Osman was an adrenaline addict.
Osman set the Guinness World Record for the longest rope jump which was over 1,000 feet. Rope jumping is the act of falling from the top of a cliff and being stopped by a safety rope that's attached to the person falling.
Alex Honnold beat Osman's record for fastest free solo speed climb on "Lover's Leap" in Yosemite Valley. Osman set a record pace of 4 minutes and 25 seconds on the 400+ feet climb. Honnold beat Osman's record with a time of 4 minutes and 15 seconds.
Dan Osman's death came at the hands of faulty safety ropes while performing a rope jump in Yosemite Valley when he was 35 years old. Many believe it to be the cause of weathering on the rope because it had been left outside for over a month beforehand leaving it exposed to rain and snow. A representative from Black Diamond Equipment called Chris Harmston, along with the National Park Service investigated the accident. Harmston concluded that the main jump rope was made up of many ropes tied together and a change in jump site angle could cause it to cross and catch on a knot during the fall. This was thought to be the reason why the rope would cut itself – probably due to melting. Harmston also argued that the rope seemed to be in good condition even though it had be left outside in bad conditions for over a month. Dan Osman left his daughter, Emma, fatherless after this accident. After his death, a biography about Osman was written by Andrew Todhunter called "Fall of the Phantom Lord: Climbing and the Face of Fear". It's obvious to see why Dan Osman would be on the list of the most famous rock climbers of all time.
Shauna Coxsey
Shauna Coxsey MBE is an English rock climber who is most famous for being the winner of the IFSC Bouldering World Cup in 2016 and 2017 at 23 and 24 years old which easily puts her as one of the best female boulderers of all time. In 2013 Coxsey sent her first 8B (aka V13) bouldering problem after topping "Nuthin' But Sunshine". In 2014 she narrowly missed the top spot at the IFSC Bouldering World Cup finishing in second place overall. Later that year she would become the third woman to ever send a bouldering problem rated 8B+ (aka V14) after topping "New Baseline" in Magic Wood. She's the first ever British female to climb V12, V13, and V14 rated boulders.
In 2016, she was appointed a Member of the Order of the British Empire (MBE) at the birthday honors for her services to climbing.
Shauna says she started climbing at four years old after being inspired by Catherine Destivelle, a French climber. She is very famous in the climbing community especially on social media where she has over 330k followers on Instagram and she posts very often about her travels, training, climbing and life. You can find her on Instagram under the handle @shaunacoxsey
Janja Garnbret
Janja Garnbret is a female Slovenian rock climber who has won multiple climbing competitions over many years in lead climbing, bouldering, and combined in the IFSC World Cup. She's also won many gold medals in the World Championships. She was born on March 12, 1999 making her 20 years old at the time of writing. In 2016, Janja was the winner in Lead Climbing and Combined at the IFSC World Cup – she was only 17! In the same year she also won the gold medal for lead climbing in the World Championships. In 2019, Garnbret achieved something no one has ever been able to do before in competition climbing – she won 6 events out of 6 at the Bouldering World Cup, solving 74 out of 78 problems. She is easily one of the best female competition and/or sport climbers alive today.
Garnbret is also very talented at outdoor climbing having climbed an 8c+ when she was just 16 years old. Just two years later she clipped the anchor of her first 9a rated problem. This proves that Janja isn't just accomplished at indoor competition climbing.
Janja has over 134k followers on Instagram and posts very inconsistently, showing just how famous she is in the climbing community at the age of just 20. Her Instagram handle is @janja_garnbret
Tommy Caldwell
Born in Colorado, USA, Tommy Caldwell is an accomplished climber in the disciplines of sport, trad, speed and free climbing. His mother and father were climbers and mountain guides. It was his father who got Tommy into climbing. Tommy doesn't have any notable competition climbing achievements, however he has climbed some of the hardest routes in the United States including "Kryptonite" rated 5.14c/d and "Flex Luthor" rated 5.15a. He has many notable free climbing ascents such as those on "El Capitan" in Yosemite Valley – "The Dawn Wall", "Lurking Fear", "Muir Wall", "West Buttress", "Salathé", "Zodiac" and "Magic Mushroom".
Caldwell has actually appeared in two climbing documentaries – one surrounding his ascent of the "Dawn Wall" on "El Capitan" with fellow climber Kevin Jorgeson which was called "The Dawn Wall". The other documentary was called "Free Solo" – this was the film surrounding Alex Honnold's free solo ascent of "El Capitan". In "Free Solo", Caldwell is involved in interviews and is shown helping Honnold with his preparation.
Caldwell was taken hostage with fellow climbers Beth Rodden, John Dickey and Jason Smith by rebels in Kyrgyzstan in August 2000. The climbers were held hostage for six days – the kidnapping ended after Caldwell pushed a captor named RavshanSharipov off a cliff believing to have killed him in the process. Caldwell then rushed to find government officials to inform them of the kidnapping. Later the climbers found out that Sharipov – the captor who Caldwell had pushed off the cliff – had not died. Another climber and mountaineer named Greg Child wrote a book about the ordeal called "Over the Edge: The True Story of Four American Climbers' Kidnap and Escape in the Mountains of Central Asia". Caldwell did a TEDx talk detailing these events.
Tommy also sawed off a part of his index finger. Doctors reattached it but Tommy had it removed because it impacted his climbing negatively.
Tommy Caldwell has a massive following on Instagram with over 550k followers and uses the handle @tommycaldwell
Lynn Hill
In the 1980s and 1990s, Lynn Hill was regarded as one of the best competitive sport climbers in the world. Born in January 1961 in Michigan, Lynn is famous as the first person to ever complete a free ascent on "The Nose" on "El Capitan" in Yosemite Valley. Not only has Hill been described as one of the best FEMALE climbers of all time, she's also been described as one of the best climbers ever period. Hill is very famous in the rock climbing world because of her public speaking on the topic of climbing and gender equality.
Lynn Hill has appeared on television and in documentaries, so it's only natural we put her on this list as one of the most famous climbers of all time. Her autobiography "Climbing Free: My Life in the Vertical World" was co-written with Greg Child and was published in 2002.
Hill was always very athletic – being a gymnast and a weightlifter at a young age. She started climbing early in her life and was apparently a natural at the sport. She set many records both in first ascents and first female ascents. For example, she was the first woman to redpoint a 5.14a(8b+) rated climb – "Masse Critique" in Cimaï, France. Hill has also on-sighted a 5.13b (8a) rated climb after climbing "Mingus" in the Verdon Gorge.She won the Lead Climbing IFSC World Cup in 1990. In 1992 she took third place in the same event. She was apart of the climbing community at Camp 4 in Yosemite Valley.
Lynn Hill can be found on Instagram and has the handle @_linacolina_
Catherine Destivelle
Catherine Destivelle was born on July 24 1960 and started her climbing journey at the age of 12 at Fontainebleau in France known for its natural bouldering rocks. Her parents were both French, however she was born in Oran, French Algeria. Her father was an amateur climber, so you can probably assume he was her inspiration for starting. Catherine also liked to cliff climb in Burgundy and was involved in alpinism in the Massif des Ecrins. Catherine was a natural at rock climbing, showing a lot of passion for the sport as well as athletic ability and endurance.
Destivelle is a great climber having many first ascents in the Alps, and many free solo ascents around the world. She's also the first woman to solo ascend the north face of the "Eiger" which she sent in 1992. However, the reason she's on this list as one of the most famous rock climbers ever is because of the multiple films she been involved in and books she's written. She's written or been the co-writer of 10 successful books (mostly written in French) and been involved in 10 films (most of which were French), some of which were very popular.
Sean McColl
Sean McColl is a Canadian competition climber and lives in Chambery, France. Although he generallyclimbs in competitions, McColl has climbed one of the hardest routes in Canada, sending a second ascent on "Dreamcatcher" which is rated 5.14d. He also flashed "Nagual", which is a bouldering problem rated V13 while competing in an outdoor bouldering competition called the Hueco Rock Rodeo.
In 2012 he won the overall IFSC Climbing World Championships. He also won the IFSC Climbing World Cup in Combined climbing in 2014 and 2016.
Sean has over 171k followers on Instagram, posting daily and offering content that climbing fans love to see including clips from his competition climbs, climbing training videos, pictures with fellow climbers, and endurance training videos. You can find his Instagram page by searching the handle @mccollsean
Nonaka Miho
Nonaka Miho is a female competition climber from Japan who specialises in bouldering. She won the 2018 IFSC World Cup in bouldering when she was just 21 years old. In 2016 she took the silver in the IFSC World Championships in bouldering. When she was just 9 years old, her father and sister introduced her to climbing which would change her life forever. She's now in training for the 2020 Tokyo Olympics which means she has had to start focusing on lead and speed climbing. For more information about the Tokyo 2020 Olympics, I've written a very detailed article which you can find by clicking this link.
Nonaka is popular on Instagram which is why she's on this list as one of the most famous climbers of all time. She has over 103k followers and posts almost every day which content that would interest her followers.
Fanny Gibert
Fanny Gibert is a French bouldering champion who has achieved silver and bronze medals in the IFSC World Cup, achieving a number 3 world cup ranking in 2018 and 2019. Gibert is from Montpellier but grew up on an island called Reunion which is a department and region of France. She started climbing at 10 years old. She is a student of mechanical engineering alongside being a professional climber. It would usually take five years to finish the mechanical engineering course she is taking, however, because of her climbing her course will take 8 years to complete. She is an active poster on Instagram and boasts over 73k followers. Her Instagram handle is @fannygibert974