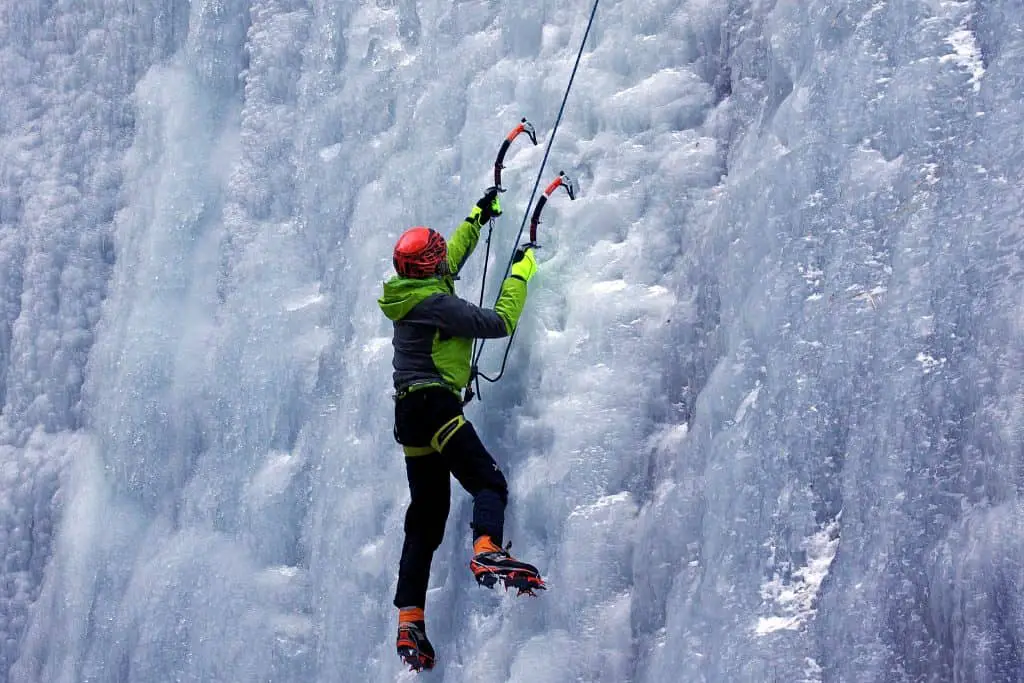 It is hard to find a person who would not be impressed by the high peaks of the snow-capped mountains. They are so gorgeous and mighty, but at the same time inaccessible and impregnable. But, there are people, for whom ice and snow are not an obstacle. They are ice climbers.
So, what is ice climbing? Ice climbing is a young sport, just like rock climbing, which branched out from mountaineering. However, it retains all the main features of its ancestor – a high level of adrenaline, the unpredictability of the terrain, and high dependence on weather conditions.
Ice climbing doesn't mean ascending only icy tops. You can hardly find a place where pure ice covers the rock. More often, it is a mixture of stones and ice – frozen rivers, waterfalls, and icy cliffs. For ice climbing competitions, vertical ice walls are mainly used. However, dry tooling or ice-free climbing with the use of the same equipment is also in favor.
Page Jumps
Ice Climbing History
The beginning of the 19th century
Ice climbing originated at the beginning of the 19th century in the Alps, where the British nobility spent their holidays. They hired local shepherds as mountain guides. Their mutual interest has led to several improvements in equipment. For example, the alpenstock became shorter and got a shovel for cutting steps in ice hills.
The beginning of the 20th century
At the turn of the century, the Scottish Mountain Club paved the way to rocky hills, covered with ice and snow. In 1906, Harold Raeburn first climbed Ben Nevis (1344.5 m), the highest point of the British Isles. Until the 1950s, the achievements of the Scots remained unsurpassed.
The main successes of the first half of the 20th century were scaling the three most famous North Faces of the Alps: Matterhorn, Grand Jorasses, and Eiger.
The second half of the 20th century
In 1955, a six-day climb to the North Face of Les Droites showed a new level of difficulty in ice climbing. The incline of the route was much higher than of any other scaled before.
The use of new tools and the experience of Alpine and Scottish ascents in the early 70s allowed climbing frozen waterfalls in New Hampshire. For example, the first ascent of the 600-foot Black Dike.
At the same time, in Utah, Colorado, new standards of free climbing were introduced into ice climbing. In 1971, Greg Lowe climbed a scary route (75 feet (ca. 23 m) of vertical ice wall) near his home in Ogden, Utah, without safety equipment. He used only self-designed ice axes.
By the end of the 70s, ice climbing became widespread in the USA, Norway, Alpine countries, and in Korea and Japan. At the same time, the ice tools were also improving.
Even though ice climbing is a young and developing sport, competitions are held all over the world. The most prestigious one is the annual Ice Climbing World Cup, consisting of several international stages.
These festivals and competitions bring people together. They can share experience and knowledge, try new equipment, and have a great time.
Ice climbing became a separate discipline in September 2002. The International Climbing and Mountaineering Federation held the first World Cup competitions in the same year.
You can find more information about the history of ice climbing by clicking this link.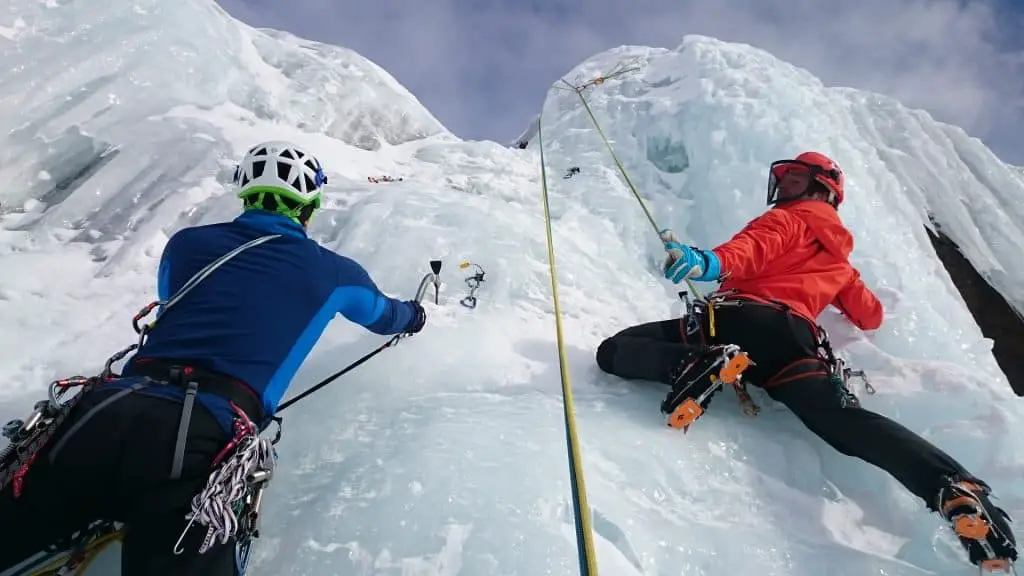 Ice Climbing Basics
First, an ice climber has to determine what type of ice he will face. There are two kinds of ice with different structures:
Water ice is a brittle and hard formation with an uneven covering. It looks like a thin coating over the rock surface. It is a frozen water flow. Water is climbed by people looking to test their technique and is usually some form of frozen waterfall or similar.
Alpine ice has a layered and soft structure, built of compressed snow. It is frozen precipitation. Alpine ice is found on mountains, usually climbed because the climber wants to reach the summit of a mountain. It is a type of climbing used in mountaineering. Alpine ice is easier to climb than water ice but is usually a longer route than with most water ice areas.
For safe movement on the ice, an athlete must have technical skills and use the features of the ice surface.
Ice Climbing Equipment
Ice climbing requires specific equipment that distinguishes it from classic mountaineering. Ice climbers can choose from a wide selection of different types and designs of the tools. The modern ice climbing equipment includes:
Ice screws. Climbers use ice screws to create a running belay on steep slopes, such as frozen waterfalls and icefalls. They also use them to secure themselves on icy surfaces for preventing falls.
Ice axes. Ice axes are the most crucial part of the equipment used in ice climbing. They help to secure the ice climber to the ice and pull himself up to the peak. Technical ice axes have curved shafts. It helps to support the weight better. You can also use them for self-arrest if you fall or slip on a slippery surface.
Harness. Climbers use harnesses to secure themselves to either an anchor point or a rope. It is a combination of nylon and cloth, which supports each leg as well as the waist. You can make harnesses out of rope, but it is much more convenient to use commercially provided ones. You can rent them from an outdoor sports shop.
Carabiners. Most often, a carabiner is a metal loop, made of steel. It allows ice climber to connect and disconnect his rope to the harness instantly. Ice climbers use them for rappelling and belaying since their shape and size fits the need to join two strands of rope.
Belay device. It is a mechanical part of the equipment that allows the ice climber to exert tension on a rope. This device also prevents you from falling.
Crampons. Ice climbers attach these traction tools to the bottom of their boots. Crampons have spikes made of steel alloy, and they help them climb icy rocks without losing traction.
Rope. Ice climbers should use two kinds of rope: static and dynamic. Dynamic one is most suitable for climbing as it is more flexible. It helps in the case of a fall or slip. A static rope is thicker and better adapted for rappelling.
Insulated climbing boots. Ice climbers need these to keep their feet warm.
Climbing helmet. Helmets are protective equipment to stop head injury.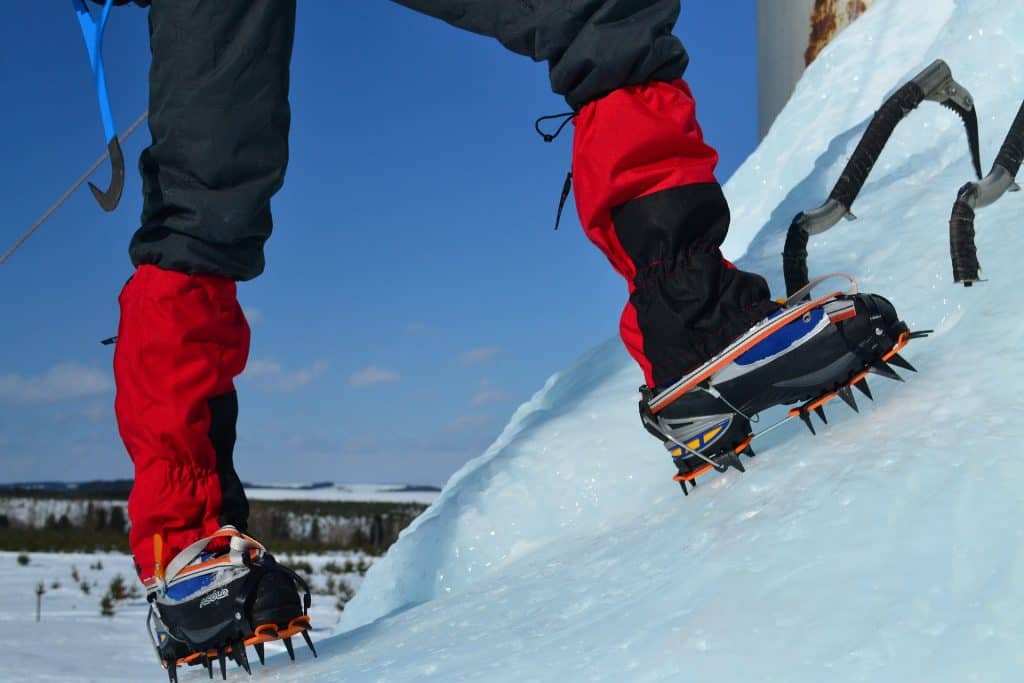 Best Places to Practice Ice Climbing
You may think that you can practice ice climbing only in winter. However, many indoor ice walls allow training all year round. The biggest one is a 12m ice wall in the National Ice Climbing Centre in the UK.
This indoor facility has different routes for beginners and experienced climbers. There is no better place in the world to improve your climbing skills.
Nevertheless, if you feel confident enough to try yourself outdoor, below you will find the best places for ice climbing.
Johnston Canyon is an ice climbing zone in Banff National Park. Frozen waterfalls are excellent for both experts and beginners.
Ouray is a famous place for ice climbing. The Ouray Ice Festival has been held there since 1996. And the best ice climbers from all over the world participate in these competitions. Ouray ice park is open as long as climbing is safe.
A stunning frozen waterfall in the Norwegian Rjukan has become the central place for European ice climbers. In 2005, they founded the Rjukan Ice Festival, which became the European version of Ouray. It is held in February, and it is also a popular destination for skiers.
Another European ice climbing festival takes place in the Swiss municipality of Kandersteg. The ice there is not as stable as in other climbing sites. But when the Kandersteg waterfall freezes, it becomes the most challenging ascent in the world.
The Kandersteg Ice Climbing Festival has been held there for 15 years already. It lasts three days and offers numerous contests, training courses, interviews with world-famous ice climbers, as well as massive parties.
Viedma Glacier, Patagonia, Argentina.
The vast Viedma Glacier allows you to test your climbing skills in ice caves and steep hills. It is an ideal place for combining basic ice climbing with an ice-climbing expedition.
Viedma glacier is an exciting location to hike because different parts of the glacier move at different speeds and form bizarre ice holes and abrupt cliffs scattered throughout the area. The glacier flows into the lake, and climbers have to use boats to get there.
Iceland is a country of otherworldly landscapes, as it combines geysers, volcanoes, and mountains. And the glaciers cover the large part of its territory. One of the most suitable places for ice climbing there is the Svínafellsjökull glacier. Vatnajokull is another place with gorgeous climbing trails.
Safety First

Like any kind of extreme sports, you will face many risks while ice climbing. And falls from height are not the most dangerous. Of course, if you use the safety equipment and ropes.
Ice axes often injure ice climbers. When detached from the ice, it can slip out and punch the owner. Also, when ice climbing it is advised to be careful with the ice particles, as they can be quite sharp.
When installing ice screws, make sure you secured them in the ice. Remove any soft snow or ice and start making a hole using the tip of your ice tool.
Also, always carry a GPS device and first aid kit with your gear. In case of injury, the way to the hospital can take several hours.
Conclusion
Although ice climbing is a relatively new discipline, it gains popularity among adrenaline lovers all over the world. It's mainly a winter sport. However, indoor ice walls allow practicing even in summer.
But if you want to feel the true spirit of ice climbing, you should pack your suitcase and go to one of the above places. They will impress you with unearthly landscapes and the sense of freedom! For an article I wrote detailing 14 different types of climbing click this link.