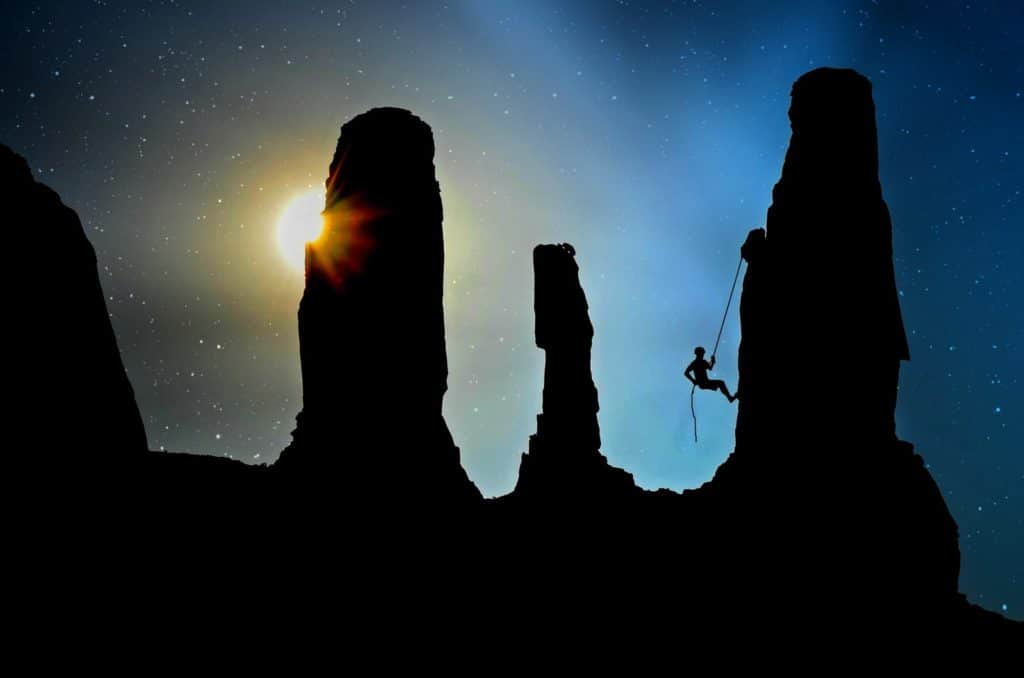 Rock climbing has a long history and has been practised for recreational or practical means. Within the last 40 or 50 years, rock climbing has rapidly increased in popularity due to many indoor rock climbing gyms opening throughout the world. With the increase of popularity comes increased focus on competitions, which in turn increases the popularity. The International Olympic Committee has also introduced sport climbing to the Tokyo 2020 Olympic Games with the three disciplines Bouldering, Lead Climbing, and Speed climbing counting towards an overall score.
It would be hard to explain the history of rock climbing in just one timeline because it has so many different variations, so this article has been separated into three different parts.
Page Jumps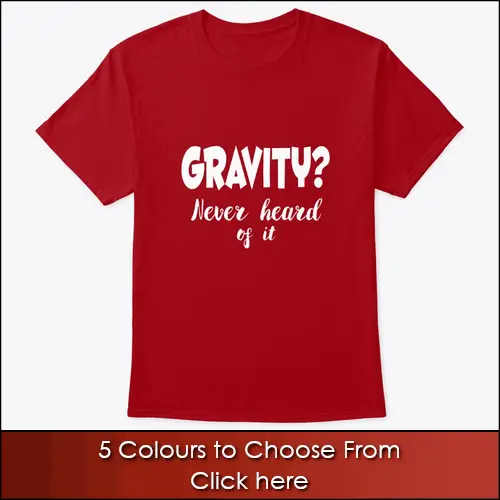 Get this design and more on T-shirts, hoodies and tank tops in our apparel store.
A Timeline of the History of Rock Climbing
Here's a timeline of rock climbing through the ages. I've tried to show the rating of any climbs mentioned here. What's important to remember here is that equipment and materials such as climbing shoes and chalk weren't used or invented until the mid 1900s, so when you see a climb rating before this, these haven't been used!
Before the 1800s
A 400BC watercolor found in China details men climbing rocks.
In the 1100s, evidence shows Native Americans that lived in Southwest Anasazi climbed cliffs in Chicago Canyon.
In 1492, Mont Aiguille was climbed by a servant of Charles VIII named Antoine de Ville. He used a combination of artificial aids such as ladders and ropes. These methods would then be used in the future to help siege castles and other buildings.
In 1695, Martin of Scotland climbs St. Kilda with the aid of ropes.
On August 8th 1786, two Frenchmen named Michael Gabriel Piccard and Jacques Balmat were the first to ascend to the summit of Mont Blanc which is the highest mountain in the Alps. This set the precedent for mountaineering for the future.
The 1800s
In the 1800s rock climbing was finally being recognised as a recreational sport, especially in European countries – most notable of all being Germany.
In 1869, John Muir free solos the first ascent of Cathedral Peak in Tuolumne Meadows while wearing hiking boots.
In 1875, George Anderson makes the first ascent of Half Dome in Yosemite National Park without the benefit of modern climbing gear or techniques. He climbed barefoot, drilling iron spikes into the rockwall for protection.
In 1886, a man referred to as "The Father of Rock Climbing" in Britain named Walter Parry Haskett Smith makes a free solo, first ascent of "Napes Needle", a 70 foot high natural rock face located in the Lake District in England. It seems this was when rock climbing started to become referred to as a sport.
In 1887, a 17 year old German climber named Georg Winkler free soloed the first ascent of "Die Vajolettürme" on the Dolomite Mountains in Italy. In turn, this turned the Dolomites into a rock climbing zone travelled to by climbers worldwide.
In the 1880s, solo climbing was being recognised as a recreational sport in Great Britain around places like the Lake District, the Peak District, and Wales. Oskar Schuster climbed the Elbe Sandstone Mountains.
In 1892, a British climber named Oscar Eckenstein organizes a bouldering competition in the Karakoram Mountains which borders the countries of Pakistan, India, and China. Cash prizes were awarded.
In 1893, William Rogers and Willard Ripley ascend to the summit of "Devils Tower". To do this they connected a wooden spike into a crack in the wall and connected a rope to it which aided their climb.
The Start of the 1900s
In 1903, the start of climbing clubs began after around 500 climbers ascended the Elbe Sandstone Mountains. For the next few decades, climbing in European rock climbing areas increased and decreased in popularity due to the two World Wars and other reasons.
In 1906, "Teufelsturm" (a more difficult climb rated 5.10 in the Elbe Sandstone Mountains) is ascended by Oliver Perry-Smith, W. Huenig, and Rudolf Fehrmann.
In 1910, some important milestones were set for rock climbing. The design of a piton was changed by Hans Fiechtl after he replaced the attached ring with an eye in the body of the piton. In the same year, the first steel carabiner was designed specifically for climbing by Otto Herzog.
Between 1910 and 1914, it was suggested by a German climber named Hans Dülfer that equipment could be used to climb rock that would usually be unclimbable. He also created a technique known as the dülfersitz rappelling technique.
In 1914, the term "artificial aid" is created by a free climber called Paul Preuss. Preuss suggested that an artificial aid describes the use of a mechanical aid to progress up a wall. This same year, the "Flake Pitch" was climbed by Siegfried Herford and his group on a mountain named Scafell. This climb was rated at 5.9, the hardest climb in England at that point in time.
In 1916, the first ever E1 was climbed in Derbyshire, England. E1 is an adjectival grade in British grading known to mean Extremely Severe. The climb was named "Cave Arête Indirect" and was climbed by a man named Ivar Berg.
In 1918, the world's hardest climb at that point in time – "Westkante" on The Wilder Kopf, Elbe Sandstone Mountains – was ascended by Emanuel Strubich. The climb was rated at 5.10c.
The 1920s
By 1922, the hardest climb in the world was named "Rostkante" which was on Hauptwiesenstein, Elbe Sandstone Mountains, and was rated at 5.10d. It was ascended by Hans Rost and his group. The same year, a 5.10b on the Elbe Sandstone Mountains named "Illmerweg" was ascended by Paul Illmer and his group.
In 1923, the standard numerical grading system was invented by Willo Welzenbach, which graded climbs from I to VI.
In 1925, the "Northwest Face" was climbed in less than 24 hours by Solleder and Gustl Lettenbauer. This was a 3800 foot rock face rated 5.9 located in the Dolomite Mountains. The same year Albert Ellingwood and his party climbed the "Northeast Buttress" on Crestone Needle which is a 2000 foot climb rated 5.7.
In 1927, the first rock drill and expansion bolt was designed and sold by Laurent Grivel. The same year, the development of the modern "Stopper" was being first experimented by Fred Pigott. He would sling chockstones and machine nuts for protection while climbing on Mount Snowdon.
The 1930s
In 1931, Emilio Comici invents equipment to be used for big wall climbing such as multi-step aid ladders, hanging bivouacs, solid belays, and using a trail line. He proves their use on the 4000 foot climb on the Northwest Face of the Monte Civetta.
In1934, bouldering wastried at Fontainebleau. Pierre Allain climbed a V2 named "L'Angle Allain". The same year, the first ascent of the "Eichorn Pinnacle" in Sierra Nevada was achieved by Dick Leonard, Jules Eichorn, and Bestor Robinson. Dick Leonard also created the dynamic belay which he practiced at Indian Rock.
In 1935, the first ever soft-soled climbing shoe was produced by Pierre Allain – the first man to boulder at Fontainebleau.
The 1940s
During World War II, the nylon rope was invented, along with the development of inexpensive climbing equipment supplied to some of the army such as pitons and carabiners.
In 1945, "Suicide Wall" was climbed by Chris Preston. The climb was located in Wales and was rated 5.10d.
In 1946, Rene Ferlet climbs a V3 at Fontainebleau named "Marie-Rose". The same year, one of the first ever protection bolts was placed in Yosemite Valley by John Salathe when he attempted to rope-solo aid the first ascent of the Lost Arrow Spire.
In 1949, "Demon Rib" rated 5.11a in Derbyshire, England is climbed by Peter Harding.
The 1950s
In 1952, the first ascent of "Bloody Slab" in Wales was made by John Streetly. The climb was rated 5.11a. The same year, the first free ascent was made on "Open Book" at Tahquitz Peak by Royal Robbins. This was the first climb to be graded 5.9 by the Yosemite Decimal System (YDS), which is no surprise really as the YDS was developed at Tahquitz. A book named "A Climber's Guide to Tahquitz Rock" was published in 1952 explaining the creation and development of the YDS.
In 1953, "Le Joker" a bouldering problem rated V5 at Fontainebleau was climbed by Robert Paragot.
In 1954, the "Fissure Brown" in the Alps which is rated 5.11 was climbed by Joe Brown and Don Whillans. They also climbed the West Face of the Aiguille de Blaitiere.
In 1955, chalk and other modern techniques and equipment were introduced to the climbing scene by John Gill.
In 1958, the impossible seemed to have become possible when Warren Harding and his group of climbers ascended the "Nose" on El Capitan in Yosemite. The climb took 45 days and different tactics and techniques were used. The same year, Don Whillans climbed "Goliath" rated 5.11b in Burbage, England.
In 1959, the first ever free climb of "Direct Start to Bastille Crack" in Eldorado Canyon, Colorado was ascended by Ray Northcutt. This climb was the hardest known in North America at that point in time.
The 1960s
In 1961, the "Salathe Wall" on El Capitan is ascended by Royal Robbins, Chuck Pratt, and Tom Frost.
In 1964, the "North American Wall" on El Capitan is ascended by Royal Robbins, Chuck Pratt, Tom Frost, and Yvon Chouinard.
In 1965, the first ever 5.11c named "Crack of Doom" at City of Rocks in Idaho was free climbed by Greg Lowe.
In 1968, the "Muir Wall" on El Capitan is solo ascended by Royal Robbins.
In 1969, the first ever 5.12+ grade was free climbed by Pete Cleveland with his ascent of "Bagatelle" at Devil's Lake in Wisconsin.
The 1970s
In 1971, hexcentrics (aka a hex) was designed by Tom Frost and Yvon Chouinard. A hex is used to protect a climber from falling by wedging them into cracks or other places in the rock without requiring a hammer to put them into place.
Between 1974 and 1977, the hardest bouldering problems in the World at that time were found in Colorado.
In 1976, a 5.11a graded climb named "New Dimensions" was free soloed by John Bachar.
In 1977, "Pheonix" in Yosemite Valley was ascended by Ray Jardine. The climb is rated 5.13a. The same year, "Phlogiston" rated 5.13a/b and located at Devil's Lake, Wisconsin was ascended by Pete Cleveland.
In 1978, the first modernized spring loaded camming devices invented by Ray Jardine years before were sold to the public.
In 1979, a 5.13b/c rated climb named "Grand Illusion" in Sugarloaf, California was ascended by Tony Yaniro.
The 1980s
In 1980, the first ever "sticky rubber" shoe is released by Boreal. The same year, a climb rated 5.13a named "The Bells, The Bells" which is located in Wales was ascended by John Redhead. "Cosmic Debris" located in Yosemite Valley and rated 5.13b was also climbed this year by Bill Price.
In 1983, Alan Watts ascends "Watts Totts" rated 5.12b and "Chain Reaction" 5.12c at Smith Rock in Oregon. bringing sport climbing to the US.
In 1985, some say the first ever 5.14a/b was climbed by Wolfgang Gullich when he ascended "Punks in the Gym" on Mount Arapiles, however others believed this climb to be rated at 5.13d.
In 1986, a climbed credited to be rated at 5.14a was ascended by Antoine de Menestrel. The route was called "La Rage de Vivre".
In 1987, Wolfgang Gullich ascended "Wallstreet" in Frankenjura, the first 5.14b.
The 1990s
In 1990, the first 5.14c was climbed by Ben Moon when he ascended "Hubble" at Raven Tor.
In 1991, a climb considered 5.14d at the time named "Action Directe" in Frankenjura was ascended by Wolfgang Gullich.
In 1992, one of the hardest big wall climbs in the World was ascended by XaverBongard and John Middendorf when they climbed "The Grand Voyage" in 18 days.
In 1993, Lynn Hill free climbed the "Nose" on El Capitan without any form of artificial aid – this had never been done before.
In 1995, a climb rated 5.15b named "Akira" was ascended by Fred Rouhling.
The 2000s
In 2000, Neil Bentley ascends a problem named "Equilibrium" in Derbyshire rated 5.14a/b.
In 2008, Chris Sharma ascends a problem named "Jumbo Love" on Clark Mountain in California which has a rating of 5.15b.
The 2010s
On June 5th – June 6th 2012, Alex Honnold was the first to rope solo the "Yosemite Triple Crown" which is a link up of "Mount Watkins", "El Capitan", and "Half Dome". It took him 18 hours and 50 minutes to complete. In the same year, Adam Ondra climbed "Change" in Norway rated 9b+ using the French grading system
On January 15th 2014, Alex Honnold became the first person to ever free solo El Sendero Luminoso in El Potrero Chico, Mexico.
On March 7th 2015, Chris Sharma made the first ascent one of the five hardest routes in the World named "El Bon Combat" near Barcelona rated at 5.15b/c. 10 days later on the 17th March, Ashima Shiraishi who was only 13 years old at the time ascended a climb named "Open Your Mind Direct" in Spain. The climb was originally thought to be rated at 5.14d, however some believe that a broken hold near the end of the climb makes the climb a 5.15a.
In 2015, the "Dawn Wall" rated 5.14c in Yosemite Valley was first free climbed by Tommy Caldwell and Kevin Jorgeson.
On 26th February 2017, "La Rambla", a climb rated 5.15a, was climbed by Margo Hayes, making her the first ever woman to redpoint a climb at this rating. Less than 4 months later on June 3rd, Alex Honnold became the first person to ever free solo "El Capitan", taking him 3 hours and 56 minutes. 3 months later to the day on 3rd September, Adam Ondra climbed "Silence" in Norway, being the first person to ever climb a 5.15d.
The History of Competition Climbing
As you may or may not know, competition climbing involves three disciplines: bouldering, lead climbing, and speed climbing. The Olympics has set its own standard of competition climbing for the Tokyo 2020 Games where these three disciplines will be scored individually and combined to create a score and therefore an overall winner. Competitive climbing is usually held on artificial, indoor climbing walls where the competitor must start at the bottom of a route and climb within a certain time frame – this applies to lead climbing and bouldering, however speed climbing does not have a certain time frame. Speed climbing is a form of climbing that takes two climbers, side by side on the same route and the first to climb to the top wins.
Timeline of Competition Climbing History
Competition climbing was actually started in the Soviet Union in the 1940s when they primarily conducted speed climbing events. The evidence shows that they only let climbers from the Soviet Union be involved in these events until around the 1980s.
In 1985, Sportroccia was created by a group of people led by Andrea Mellano and Emanuele Cassara. It was a climbing competition based on difficulty rather than speed and was held on a natural crag called the Wall of the Soldiers in Valle Strettanear Bardonecchiain Italy. Itinvolved the best climbers from around the world and thousands of people witnessed a male German climber named Stefan Glowacz and a female French climber named Catherine Destivelle win the competition.
The success of this competition spurred on another one a year later in 1986, again in Italy except this time the event was set up in two stages where one stage would be competed in Arco and the other in Bardonecchia. This competitionwas won bytwo well-known French climbers named Patrick Edlinger and Catherine Destivelle (Destivelle had also won the previous year). This year had a much higher attendance of spectators than the last – over 10,000 people witnessed the finals and it was televised around Europe.
1986 also saw the first ever indoor climbing competition in Vaulx-en-Velin, a suburb of Lyon, France. Many climbers attended and showed appreciation for a new type of activity within the sport.
Sportroccia returned in 1988, being won by Didier Raboutou and Catherine Destivelle (again), two French climbers.
In 1988 and 1989, climbing saw the introduced of the World Series (1988), and the World Cup in speed and lead climbing (1989) which saw a lot of growth in the climbing community. This spurred on a movement lead by the French Federation and a man named Paul Brasset whose sole aim was to convince the Union Internationale des Associations d'Alpinisme (UIAA) [French for The International Climbing and Mountaineering Federation] to recognise the Sport Climbing circuit. This push resulted in Paul Brasset becoming the leader of a new branch within the UIAA which would be dependent on creating rules, and training judges and forerunners for future competitions.
Throughout the year of 1990, many competitions were set up around the World including in Europe, Japan and the USA. It was concluded that all competition climbing should be set up on artificial walls so the environment does not affect a competition negatively, therefore giving every climber involved a fair shot.
In 1991 the first ever climbing World Championships was created, being competed in Frankfurt, Germany. It was to be set up every 2 years from then on in different locations around the World.
The Youth World Championships debuted in 1992 in Basel, Switzerland. Many climbers were involvedwhich showed just how popular climbing had become with the younger generation. Due to the rise in popularity, the Youth World Championships were made an annual event.
By 1997 the International Council for Competition Climbing (ICC) was organized as a part of the UIAA. It was created to bring the required means to help competition climbing and sport climbing develop properly.
Bouldering saw its introduction as a new climbing discipline in 1998 to climbing competitions. Before this, lead climbing and speed climbing were generally considered the only two competition climbing disciplines. Its introduction was tested in a competition named the "Top Rock Challenge". The test was successful and became the reason for that the World Cup was created in 1999.
The Duisburg World Games and the Asain Indoor Games added competition climbing to their roster in 2005.
The UIAA decided that they were going to hand over the reigns to an independent Climbing Federation in 2006 to govern competition climbing. 2006 also saw the first ever International Paraclimbing Competition which was organized in Yekaterinburg, Russia. This involved climbers with visual and physical disabilities from Italy, Russia, Belarus, and Japan.
The International Federation of Sport Climbing (IFSC) was founded on January 27th 2007 in Frankfurt, Germany by 57 Federations. The Association Générale des Fédérations Internationales de Sports [AGFIS) [French for General Association of International Sports Federation] and the International World Games Association (IGWA) accepted the IFSC into later that year. By being accepted by the IGWA, competition climbing was confirmed to be included in the Kaoshiung World Games in 2009. The International Olympic Committee (IOC) also granted provisional recognition to the IFSC on December 10th 2007. Due to this, sport climbing was welcomed into the Olympic Movement.
The first IFSC Paraclimbing Cup was organized in 2008 in Moscow, Russia.
In 2010, the status of the IFSC having provisional recognition from the IOC changed to definitive recognition on February 12th. 2010 also saw the first ever IFSC Paraclimbing Cup series which took place in Russia, Italy, and Japan.
On July 4th 2011, the IOC decided to include sport climbing on a short list of sports (with 7 others) as new events that may possibly be included in the 2020 Tokyo Olympic Games. 2011 also saw the introduction of the first ever IFSC Paraclimbing World Championships which also take place every two years.
In 2014, the IOC includes sport climbing as a part of the Sport Lab where new sports were showcased at the Youth Olympic Games in Nanjing, China.
By September 2015 the IOC had officially proposed Sport Climbing as a new sport for the 2020 Olympic Games in Tokyo.
Sport climbing was officially accepted as an additional sport for the Tokyo 2020 Olympic Games in 2016. Sport climbing was also accepted for the 2018 Youth Olympic Games in Buenos Aires.
In 2017, sport climbing was welcomed by the International Paralympic Committee to the Paralympic family after the IFSC is given the status of a "Recognised International Federation".
In October 2018, the first ever sport climbing Olympic medals were given out in the Youth Olympic Games which took place in Buenos Aires.
The History of Artificial Climbing Walls
It is believed that the first ever Artificial Climbing wall was built by a man named Clark Shurman at Camp Long in Seattle, United States. He had a dream to build a man made rock climbing mountain with the aim to "warn, remind, advise and instruct". He started by forming miniature sculptures of his designs using clay. It took him a whole winter to complete his model, and shortly after he gathered a team of workers to help him turn his dream into reality. After around 2 years of work in 1939, a 20 foot high structure was built with different shaped and size rocks all cemented together. Schurman originally named the wall "Monitor Rock", because his original goal was to help people learn before they set out for the real deal. Once Shurman had died in 1955, however, it was decided that the name be changed to "Shurman Rock" as an act of remembrance towards a man who contributed something so useful to Camp Long. There are still climbing classes being taught on "Shurman Rock" today.
The modern type of artificial climbing wall we are all used to was first developed by Don Robinson, a lecturer for Physical Education at the University of Leeds in Yorkshire, United Kingdom. He created the wall in 1964 within one of the University corridors by attaching pieces of rock to the wall. An exceptional climber named John Syrett started bouldering on this wall and used it regularly to hone his skills – after 2 years of practise he went from being a beginner to climbing E3 routes which just showed how good constantly training on a climbing wall was compared to just climbing a few outside climbs every now and then. By 1975, Robinson had founded DR International Climbing Walls and built an indoor commercial climbing wall in Sheffield, United Kingdom. It took the US to follow suit in 1987 when the first indoor climbing gym was built in Seattle.
Once artificial climbing walls were introduced into the World, climbing saw a massive rise in talent and progression.