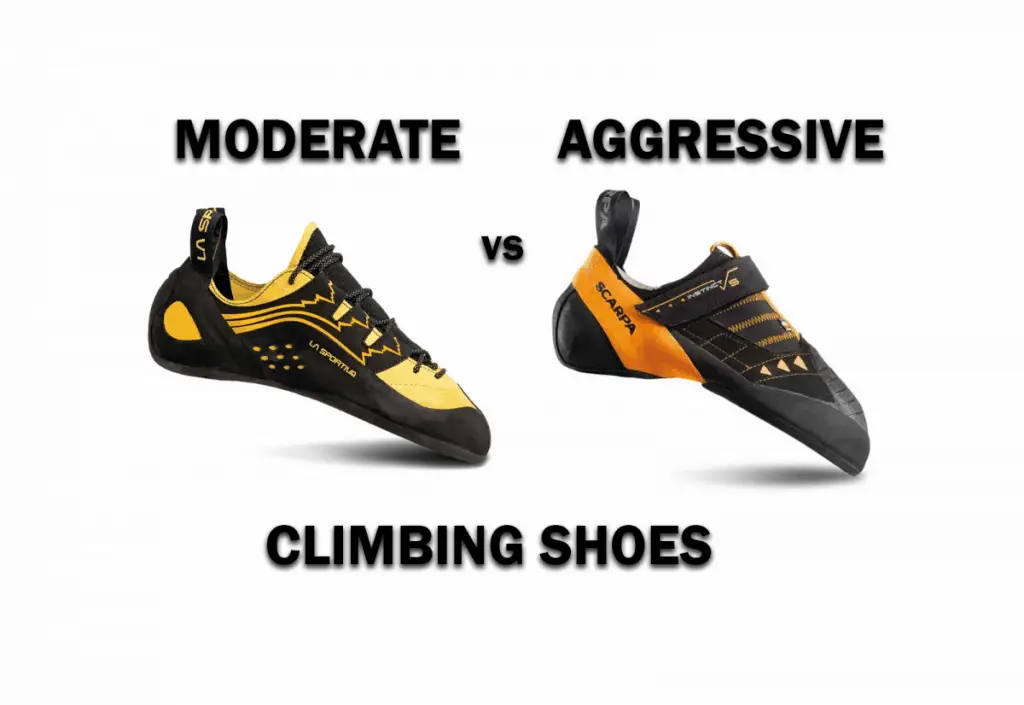 If you want to climb to the best of your level, finding the right climbing shoe for the style of climbing you're undertaking is paramount. There are three different types of climbing shoe: neutral, moderate and aggressive. In this article we're going to look at the difference between moderate vs aggressive climbing shoes and how each one can affect your climbing experience.
So what is the difference between moderate and aggressive climbing shoes? Moderate climbing shoes are usually more comfortable than aggressive climbing shoes; however aggressive shoes are more downturned on the toe giving you more sensitivity, edging advantage and overall performance. Aggressive shoes aren't as good at crack climbing or smearing as moderate shoes, however due to the downturned shape. If you're looking for crack climbing shoes or all-day comfort, you'd be better off with moderate shoes, for anything else it's aggressive shoes.
Read on to find out more information regarding the differences of these two types of shoe, including the pros and cons and when you'd wear them. I will also include information on which specific moderate and aggressive climbing shoes I would recommend for all-round climbing.
Page Jumps
What are Moderate Climbing Shoes?
Moderate shoes have a more downturned toe than neutral shoes and are generally considered an "intermediate" shoe.  Neutral shoes are very flat and are used for beginners, so moderate climbing shoes can be used by those who believe they are in transition from being a beginner.
Due to the downturned shape of the shoe (aka camber), moderate shoes are a lot better at technical climbing than neutral shoes. This means they can handle slabs and overhangs without as much struggle. Moderate climbing shoes are used by many as "all-day" shoes because of the general comfort they offer while contributing a positive effect on challenging routes compared to neutral shoes.
Pros Compared to Aggressive Climbing Shoes
The flat shape of moderate climbing shoes makes it a lot easier to jam your foot into a crack than aggressive shoes.
The flat shape also has a better effect on smearing.
The rubber on moderate climbing shoes is usually thicker than that of aggressive shoes offering more durability.
Cons Compared to Aggressive Climbing Shoes
Unfortunately, if the climb is incredibly challenging due to tiny footholds or demanding toe hooks then you will probably struggle with moderate shoes.
What are Aggressive Climbing Shoes?
Aggressive climbing shoes are used by most professionals and high level climbers who aren't climbing all day. This is because the downturned shape and the tightness of the shoe on the heel offers a lot of power throughout the foot when it's on the wall. The rubber on aggressive shoes is usually very thin and sticky, offering a lot of sensitivity on the toes.
The downturned shape on aggressive shoes is very noticeable, which is both a good and a bad thing – whilst this can be very uncomfortable for the climber, it can also mean that their technical ability on certain routes shines through a lot easier.
Pros Compared to Moderate Climbing Shoes
The downturned shape of aggressive climbing shoes offers a lot more technical ability to climb than moderate climbing shoes, especially on overhangs, gym climbing and when bouldering.
Thinner and stickier rubber gives better sensitivity on the toe for smaller toe holds and pockets.
Cons Compared to Moderate Climbing Shoes
Aggressive climbing shoes are generally not as comfortable as moderate climbing shoes due to the downturned shape.
They are also not as good at smearing or jamming feet in cracks due to the downturned shape on the toe.
Typically, aggressive shoes are less durable because of the thinner rubber than moderate shoes.
What is the Best All-Round Moderate Climbing Shoe?
Finding the best moderate shoes depends on what exactly you're going for, so I've decided to give you the best all-round option. With moderate climbing shoes, I find there's only really two reasons people choose them – comfort and performance. In that respect I believe I have the perfect climbing shoe. As an all-round climbing shoe, this shoe is the best moderate climbing shoe on the market, hands down.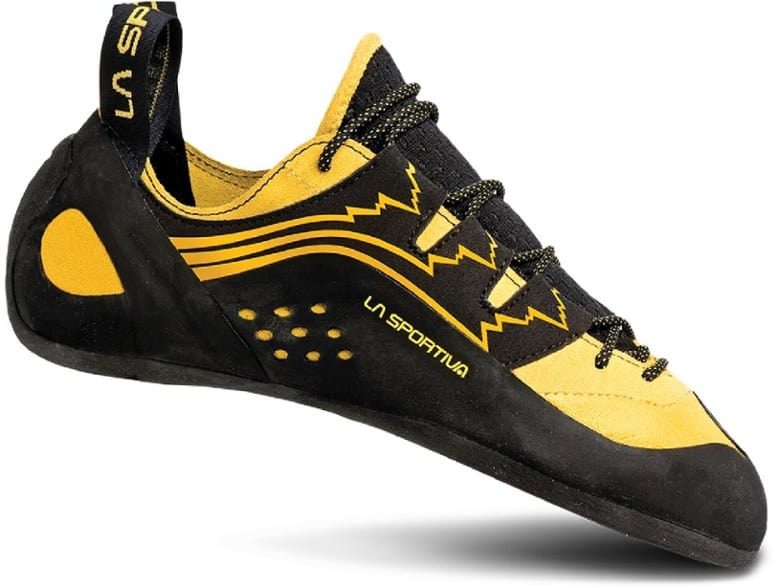 Based in Italy, La Sportiva is one of the leading climbing shoe manufacturers in the world. They bring innovative designs and high quality products. La Sportiva is a worldwide trusted brand providing top-notch climbing shoes, hiking shoes and other outdoor gear. The La Sportiva Katana Lace is one of the best climbing shoes on the market that has very versatile attributes for all your climbing needs.
Shoe Type: Moderate
Upper: Leather/synthetic leather
Rubber: 4mm Vibram XS Edge
Good for: Durability, versatility, comfort
Bad for: Your wallet. The price is quite high.
The La Sportiva Katana Lace is a moderate shoe with a slightly downturned toe which helps to keep the foot glued into a pocket or pressed into an edge while also keeping the foot feeling comfortable. Due to the moderate arch, your feet feel flat and comfortable 90% of the time. The flatness is also good for crack climbing.
The heel of the shoe is tight, but not so much that you feel uncomfortable; in more of a way like a mother hugs a child she hasn't seen for a while. This allows your toes to feel more precise as if the weight of your feet is being pushed from your heel down towards the front of your foot.
The Vibram XS Edge rubber on this shoe has made a name for itself as a glue that only unsticks when you pull your foot away. Like the La Sportiva Muira, the Katana has no wow-factor for any particular type of climbing, but it's the versatility of this shoe that allows you to see its true value.
In terms of long routes and long lasting sessions, this is the best shoe out there. It rivals the La Sportiva Miura as the best all-round shoe at this present time. If this is your only pair of shoes then you won't be disappointed.
The only real problem with this shoe is the price. It's a great shoe but it's a lot of money to spend on a pair of climbing shoes specifically for long routes or long lasting sessions.
If you're looking for something that can give you the benefits of a high-performance sport climbing shoe then this isn't the shoe for you. It's the versatility of this shoe that makes it so good.
What is the Best All-Round Aggressive Climbing Shoe?
The best all-round aggressive climbing shoe has been a staple for many years. It hasn't moved in the rankings and has only been upgraded over the years. If you're looking for a shoe that is slightly less comfortable than the La Sportive Katana Lace but offers more overall performance (other than in crack climbing) then read on.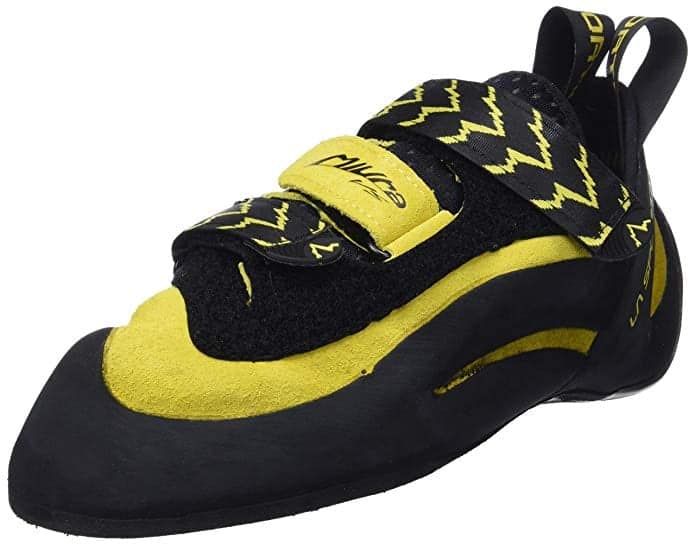 Shoe Type: Aggressive
Upper: Leather
Rubber: Vibram XS Edge rubber
Good for: Versatility, precision, general comfort, edging, smearing
Bad for: Slightly uncomfortable toe box, do not stretch length ways, crack climbing
The La Sportiva Miura has been known for years as one of, if not THE most well rounded shoe on the market. If you're looking for a shoe that's the best at one particular thing, then this isn't it. But as a jack of all trades shoe you're looking in the right place. Not only that but it's great for wide feet.
For the durability, the price is certainly affordable. Durability is not an issue if you don't crack climb as this is not their intended purpose. As long as you're treating this shoe correctly, they'll last you a long time. The upper material on this shoe is made of leather and the rubber used on the sole of the shoe is 4mm of Vibram© XS Edge which is a very durable type of rubber.
The shoes are quite uncomfortable when you're breaking them in and stretching them with your feet. But after a few sessions of wearing them they're fine. If you were to wear them all day you might start to feel a bit of pain, but for short term climbing the shoe isn't that bad. It's got three Velcro straps which help you adjust the shoe to your foot's shape. But as it's a curved shoe, it will start to get uncomfortable after two or three hours.
The precision of these shoes are excellent. Sometimes you feel like you're wearing no shoes at all because you know where your big toe is, and you can feel exactly where to place it on even the thinnest of edges. If your foot slips off a hold you 100% cannot blame the shoe – it's definitely bad footwork that caused the problem!
This is also great for smearing and pockets, however it's not as downturned on the toe as some other high-end sport climbing shoes.
Should You Buy Velcro, Lace-Up or Slip-On Climbing Shoes?
Once you've decided on the aggressiveness of the shoe you're getting you'll probably be wondering whether you should get laces or not. There are three different ways to tighten or wear your climbing shoe. These are by using laces, using a Velcro strap, or by using slip-on climbing shoes which have some sort of elastic built in to keep the shoes from falling off your feet.
Laces
Laces are the most versatile due to the fact you can loosen them if it gets hot and your feet swell up or if you want to tighten your shoes up to give maximum output/precision. I always advise laces for anyone who's buying neutral or moderate shoes, especially if it's for longer routes or all day climbing. This is because you aren't going to be taking your shoes off as much due to how comfortable the shoes are. You can then readjust the tightness of your shoe at your own leisure.
Velcro Straps
Velcro straps are for ease of use when climbing. They're easy to take off and put back on in no time. If you want this kind of convenience without the need to tie a knot, these might be your best bet. If you're not all-day climbing or you've got very aggressive shoes, using Velcro or slip-ons might be your best bet.
Slip-Ons
Slip-on shoes are great for sensitivity and are really convenient for taking your shoes off and putting them back on. If you climb on rocks with thin cracks, slip-ons may be perfect for you due to their thin profile.