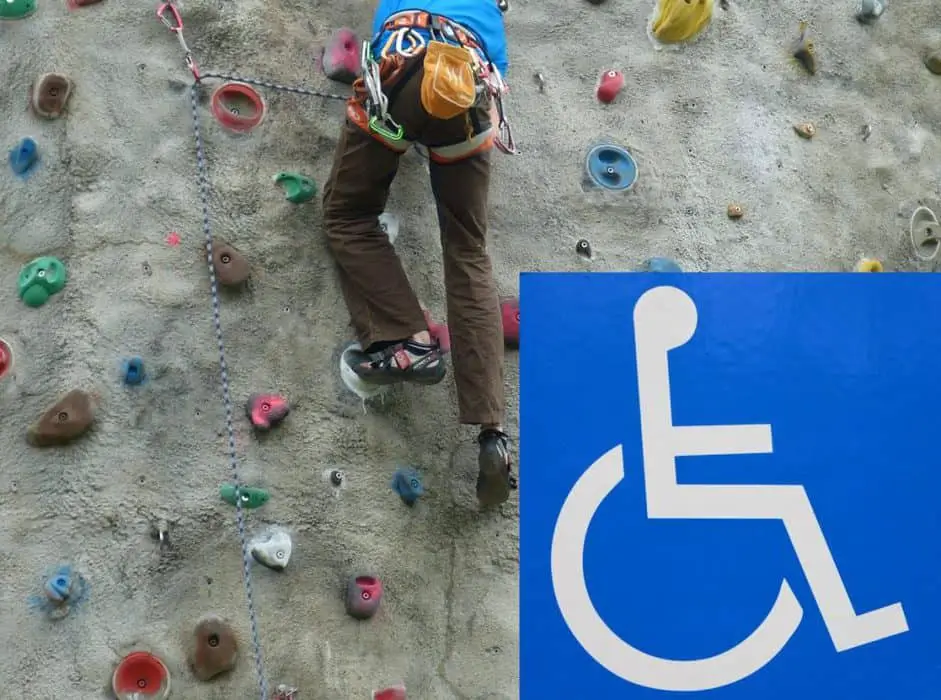 Rock climbing is a sport that seems to involve a lot of physical activity which can be daunting to anyone with a disability who might be thinking of giving it a try, especially when they realize it's an all body workout. In this article I'm going to go through how people with disabilities can get into climbing, plus how it's practised by many disabled athletes and coaches already.
Climbing, mountaineering, and even hill walking are activities that are fulfilling however they can also be physically and mentally demanding. If you have a disability keep reading to find out why that shouldn't put you off.
So, can you go rock climbing with a disability? Rock climbing has the paraclimbing championships dedicated specifically to disabled athletes and climbers with special needs. Paraclimbing isn't just limited to rock climbing either. Great Britain has a paraclimbing world champion, a leading amputee Mountaineer and a certified wall climbing instructor with cerebral palsy. This is coupled with a social environment that is very supportive of those who wish to try it out. Wheelchair users will have to find a local gym that can accommodate their needs – some gyms have specialized equipment and ropes.
People from all walks of life may enjoy this sport which makes disability less of a problem for determined individuals from joining. The good thing about this is that you can either choose to do this for recreation, competitively, or even as a professional, disabled or not.
What is important is that you will have lots of fun, get to build your upper body strength, and learn new skills while practising a discipline.
Page Jumps
What is Paraclimbing?
Paraclimbing is a category of rock climbing that is tailored for persons with impairments. It pretty much has the same rules as rock climbing where climbers ascend the wall using a "top rope". This rope is then attached to the top of the wall. Located on one end is the climber and on the other end is the belayer.
Paraclimbing is recognized by the International Paralympic Committee. However, rock climbing still has to join the Paralympics since it's still a very young sport. Paraclimbing has been enjoying growing support building up to the Tokyo 2020 Olympics (click for an article I've written about Climbing in the Olympics) where sport climbing was supposed to be featured for the first time, however due to COVID-19 this has been put on hold until 2021.
Top rope climbing is only one type of paraclimbing. Paraclimbers are a surprisingly driven bunch wherein they practice all other variations of climbing as a form of challenge and adventure. Other variations of paraclimbing include trad climbing, lead/sport climbing, bouldering, deep water soloing, and even ice climbing (to name a few).
This is proof that people who aren't disabled have no excuse for not taking up any of these challenges or any other type of exercise. Click here if you'd like to read an article I've written about all the different types of climbing.
This article by the BBC includes a video showing amputees and people with other types of disabilities enjoying a day out on the climbing wall.
What are the Categories in Paraclimbing?
All in all, there are 20 internationally recognized categories for paraclimbing competitions. These include:
B1/2/3- Visual impairment with B1 as to full blind to light perception. It is also in decreasing severity as the number goes higher.
RP1/2/3- Power in Decreasing Severity with a Limited Range
AU1/2- Arm/Forearm amputee
AL1/2- Seating/Leg amputee
How Can I Compete in Paraclimbing?
The National Paraclimbing series in the UK which is held by the BMC or British Mountaineering Council invites climbers with any disability to get involved. They push themselves and test their limits. It welcomes everyone from climbers suffering from hearing impairment, autism, mental illness, and many others. Every now and then there are also regional paraclimbing championships arranged by local gyms.
Paraclimbing Championships
IFSC Paraclimbing World Championship is the biennial world championships for competitive climbing for disabled people. Organized by the International Federation of Sport Climbing (IFSC) it determines the male and female world champions in various categories.
Three main classifications are as follows:
Visual
Limited range, power of stability, LRP formerly Neuro, and physiological disabilities.
Amputee
The first-ever event was held was in Arco 2011, together with the IFSC Climbing World Championships outfit. Whenever a category is empty or no one is entered into it, it is not run. Conversely, if a category has some competitors registered although not enough to officially run it, this category gets combined into a tougher category.
The majority of the participants' conditions are neurological disabilities such as stroke survivors, brain damage, and so forth. Limb accidents were placed in the RP category.
Climbing for Wheelchair Users
Generally, if the needs of people in wheelchairs are included in the design for a rock climbing gym, there should be no problem. You'd be surprised at how a wheelchair-bound user can ascend a climbing wall along with their chair. They can do this with an coach instructing them along the way.
There are necessary dimensions of a climbing gym that will allow people in wheelchairs to enter and move around with no problem. There should be around 36-inches of space on all sides of the climber. This will give the wheelchair user ample space to turn and move around while using the equipment.
Unfortunately, this hasn't been adopted yet by a lot of the gyms around the world. US guidelines for adults with disabilities recommend 150 minutes per week of moderate activity, or at least 75 minutes of vigorous activity. It is estimated that only 1/3 of people with disabilities participate in this exercise. Climbing would be a great exercise for anyone in a wheelchair if their local gym had the equipment to accommodate their needs.
Gyms in the World that Accommodate those with Disabilities
Currently, there is no exact database as to which establishments currently offer accessibility to the disabled. A sample study in Mississippi, USA says that roughly 20% of establishments have some accessibility in restrooms and some of the equipment. And it is estimated that the same percentage goes for the rest of the country.
This shows that there is still a lot of work to be done when it comes to establishing equal access for the disabled in the US. In the meantime, you can always look and call the nearest local gym in your area. You can ask if there are accessible facilities available.
Adaptive Climbing Equipment for People with Disabilities
Depending on the type of disability or a person's special needs, there are different types of equipment that can help a person adapt to a climbing wall.
Specialized feet and climbing knees
Amputees who are starting out in this sport can attempt a climb by removing their prosthetics and wear a sleeve for their residual limb. For the more advanced climbers, specialized feet and climbing knees can definitely enhance their experience and strengthen the physical body.
Specialized Hand Grips
Upper limb amputees may wear these hand grips to make it easier staying in the holds.
Combination of Standard Harness and Chest Harness
This combi-type adaptive gear works well with athletes who have spinal cord injuries or an unstable trunk. It will also depend on the severity of the injury. The harnesses let the climber stay upright as they ascend up the wall.
Seated Harnesses
This type of harness is available with bigger waist belts and leg loops to prevent and avoid pressure sores on the climber's body.
Ratchet-Like Locking Mechanism
This device works out of a top-roped pulley system which helps the climber to slowly ascend to the top of the rock wall. This is done with the help of this locking mechanism.
Other Items
Adaptive Pull-up bar with custom runner – attaches to the swami belt
Figure 8 chest harness – used for rope ascending techniques
Swami Belt with Adapted Leg Loops – works well for paraplegics, incomplete quadriplegics, and individuals with limited lower limb use.
Croll Ascender with custom runner – attaches to swami belt and chest harness
Gibbs Ascender with custom runner – attaches to the swami belt and chest harness
Other Activities that People with Disabilities can Enjoy
Having a fantastic environment in any part of the world is always a good thing. Your area may have a variety of hills, coastal cliffs, and mountains. In contrast to attempting to climb indoors, hillwalking and mountaineering can also be a great exercise for people with disabilities; however they have their inherent risks.
People with disabilities may encounter harder challenges depending on the level of impairment. Adventure-based counselling promotes positive growth for those with disabilities, so it's a good idea to encourage outdoor activities to these people.
It would be a good idea to start climbing indoors first and find a gym that can accommodate your needs. Then eventually join an outdoor group for additional support and safety.
Jamie Andrew is a mountaineer and quadrilateral amputee. He's got 5 tips on how people with disabilities can attempt hillwalking and mountaineering safely while enjoying the activity. These are:
Start off with a positive attitude.
Make an assumption that everything will be fine so that it will increase your chances of success, despite the challenges of being an amputee who's making their way into the mountains.
Sometimes you need to simplify your strategy and even the gear you'll be taking. Don't use bulky prosthetics that could weigh you down as you get up the path.
It's great to be independent. In an outdoor scenario, humans are better off working as a group and helping each other. Don't be embarrassed to request things from others like: "Can you undo my zip?"
Accomplish one goal at a time towards one big goal.
As long as you are out there accepting and overcoming challenges, you might as well have fun too.
If you're looking for more outdoor activities to enjoy then Adventure4All set up different types that try to include everyone, even those with disabilities.
Disabled Climbers have Gone on to Instruct and Coach
Nik Royale
Nik is a Welsh climbing instructor with progressive cerebral palsy who has achieved a climbing wall qualification. He also climbed the summit of Tryfan in North Wales in 2008. He passed his instructors assessment in Liverpool, England.
Jamie Andrew
Jamie lost both of his hands and feet due to frostbite. In spite of that, he gained the title of Mountain Leader. According to him, he made a habit out of questioning his limiting self-beliefs. His own mental fortitude helped him along, plus the support and training that he received from people conducting his training and assessment.
This eventually enabled him to become an inspiration as well as a good benchmark for other disabled persons. That then applies to either novice or a pro, both of whom would want to reach beyond their known potential.