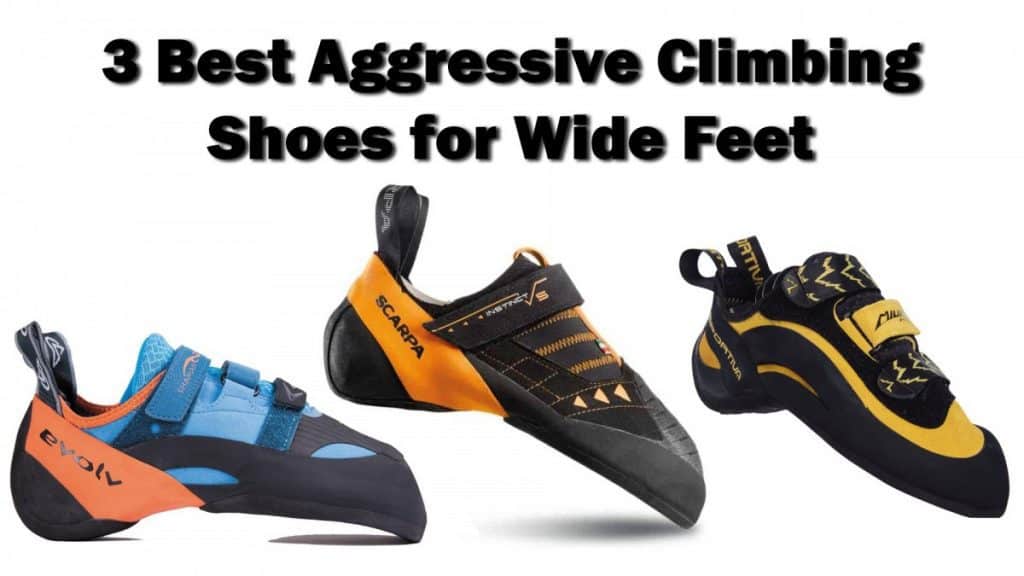 It's hard to find climbing shoes that not only fit wider feet with a degree of comfort, but also gives you the performance that aggressive shoes can offer. Luckily for you I've not only got wide feet due to my tailor's bunions, but I've also tried on and climbed in quite a few different shoes. Not only that but with the shoes I haven't climbed in, I've done the research for you as well.
If you're looking for the best aggressive climbing shoe out there at the moment for wide feet then I'd go for the evolv Shaman. It's the best for sport climbing, overall performance and comfort. If you're looking for the perfect bouldering shoe for wide feet, my personal favorite are the Scarpa Instinct VS. If you're in need of a versatile climbing shoe that you can use on any type of climbing then the La Sportiva Miura is the one for you – however you'll be sacrificing a little bit of comfort from the Evolv Shaman.
You can go straight to the shoe that fits your needs to look at the review or just continue reading from here to find out everything.
Page Jumps
Overall Climbing Shoe for Wide Feet & Sport Climbing: evolv Shaman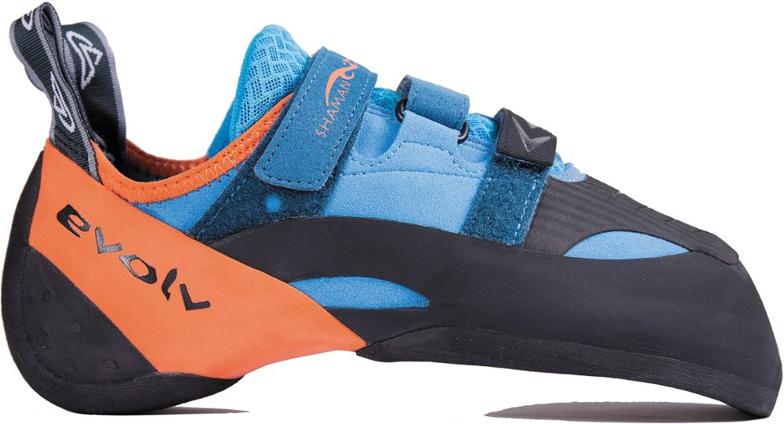 The evolv Shaman was designed by Chris Sharma, one of the best and most famous climbers of all time. This shoe won the 2012 Climbing magazine Editor's Choice award, which speaks for itself really.
Shoe Type: Aggressive
Upper: Synthetic suede
Rubber: TRAX XT-5 rubber
Good for: Precision, comfort, vegans, lightweight, overhangs, sport climbing
Bad for: Small foot holds, slab climbing
The Shaman's performance is high-level, giving you great sensitivity and precision while being able to house a wider foot. Not only does it feel comfortable for a wider foot but it feels tight at the tip of your toe which is where it helps you with sensitivity.
Personally, I love how light the shoe is while also being so supportive at the front of your feet. Recent upgrades to the toe patch and front strap have made the Shaman great at hard toe hooks.
The evolv Shaman seems to work well on sticking to overhangs which is probably where Chris Sharma comes in. It has a thicker rubber (4.2mm) than a lot of other technical shoes, but once you've broken them in you don't really notice any lack of precision. The upgraded toe patch really helps toe hooking on overhanging rocks.
When on vertical walls or slabs, the Shaman has trouble with small footholds. This seems to be due to the thick rubber on the edge of the toe. When trying to place your big toe onto a smaller hold, the thicker rubber seems to lose form and unfortunately you won't be able to trust them too much if the hold is unusually small.
Another upgrade the Shaman has seen recently has been on the heel. The heel rubber was originally quite thick, but since its upgrade from the previous model, the shoe has no problem with technical heel hooks. It's also very comfortable around the heel while still being tight enough to feel precise.
The evolv Shaman is hands down the most comfortable shoe on this list, even with its technical ability. Because of this it's the shoe I would recommend most for anyone who has wide feet and does a lot of different types of climbing (other than for slabs).
Aggressive shoes often feel uncomfortable around the edge of the foot (where a tailor's bunion forms), but the Shaman never seemed to cause any problems here. Personally, I don't have any Shaman's as I love slab climbing and I am fine substituting the comfort it offers for other attributes.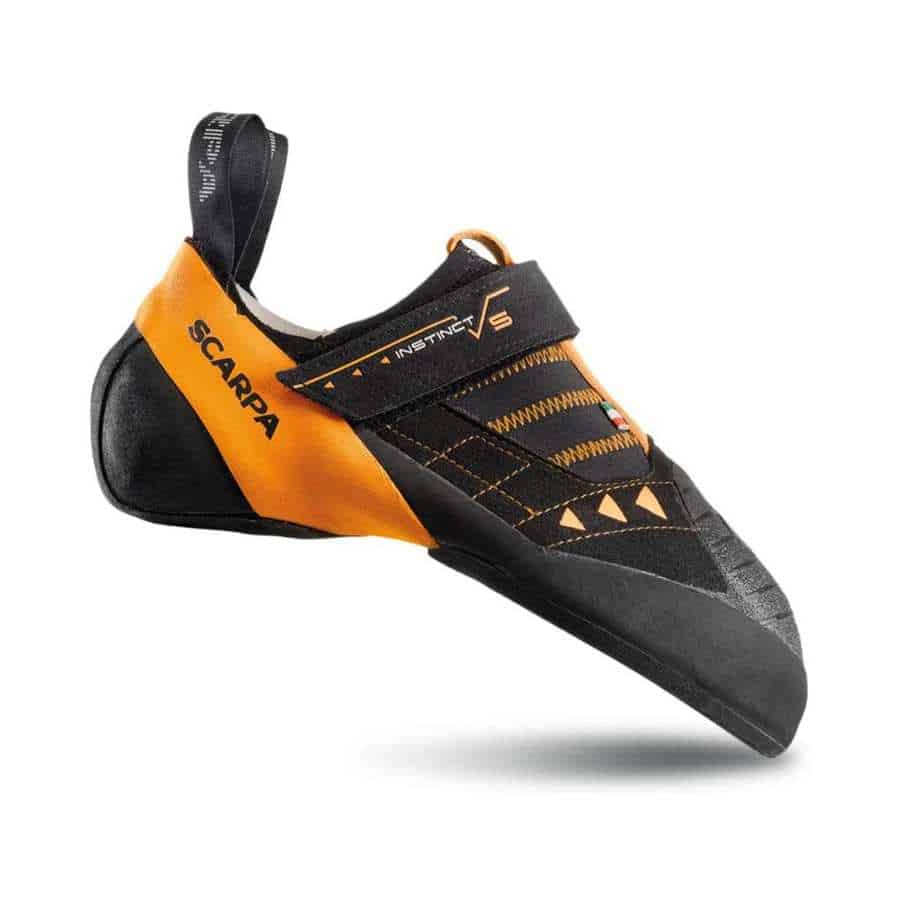 The Scarpa Instinct VS is the shoe I use the most, mainly because I boulder more often than not. It's my favorite shoe and is one of the most popular shoes on the market today. I have no problem wearing these with my wide feet.
Shoe Type: Aggressive
Upper: Synthetic leather
Rubber: Vibram XS Edge rubber
Good for: Bouldering, comfort, slabs, overhangs, heel hooking
Bad for: Heat, breaking in period, thick rand
The Instinct VS has one of the best heel designs out there due to its tight fit and amazing ability to help heel hooks. There's something beautiful about the balance it has between the thick heel and the rubber on the side which makes it perfect for heel hooks. I haven't found another shoe as precise in the heel yet.
Small footholds are dealt with very well by the Instinct, due to the power and precision of the toe box. The rand (the thinner layer of rubber than wraps over the toe of the shoe) is thicker on this shoe, which unfortunately made it less sensitive.
Another negative point to be made about the Scarpa Instinct VS is the time it takes to break them in. I've had many pairs of these shoes and cringe every time I know I've got to get a new pair. The synthetic rubber takes a while to stretch out. This is also a reason why I don't like climbing in the heat in these shoes – the rubber doesn't stretch a lot so you can get uncomfortable when your feet swell.
I do love, however, how easy it is to take the shoes on and off without feeling uncomfortable as long as the shoes aren't new or I'm not climbing in high heat. Generally these shoes are very comfortable and very easy to fit. I also find them to be very durable due to the thickness of the rubber.
Last but not least, the performance of this shoe is fantastic on both slabs and overhangs. Not only is the toe great for small footholds but there's a toe patch which is designed specifically for toe hooking. It's the perfect bouldering shoe.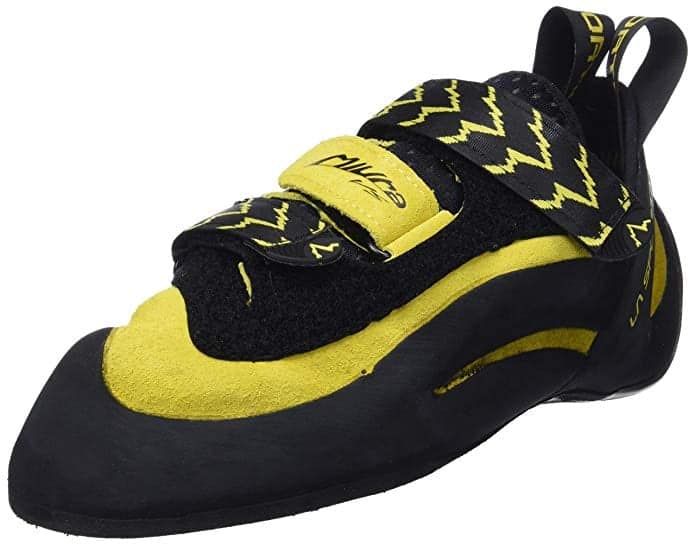 The La Sportiva Miura has been known for years as one of, if not THE most well rounded shoe on the market. If you're looking for a shoe that's the best at one particular thing, then this isn't it. But as a jack of all trades shoe you're looking in the right place. Not only that but it's great for wide feet.
Shoe Type: Aggressive
Upper: Leather
Rubber: Vibram XS Edge rubber
Good for: Versatility, precision, general comfort, edging, smearing
Bad for: Slightly uncomfortable toe box, do not stretch length ways
For the durability, the price is certainly affordable. Durability is not an issue if you don't crack climb as this is not their intended purpose. As long as you're treating this shoe correctly, they'll last you a long time. The upper material on this shoe is made of leather and the rubber used on the sole of the shoe is 4mm of Vibram© XS Edge which is a very durable type of rubber.
The shoes are quite uncomfortable when you're breaking them in and stretching them with your feet. But after a few sessions of wearing them they're fine. If you were to wear them all day you might start to feel a bit of pain, but for short term climbing the shoe isn't that bad. It's got three Velcro straps which help you adjust the shoe to your foot's shape. But as it's a curved shoe, it will start to get uncomfortable after two or three hours.
The precision of these shoes are excellent. Sometimes you feel like you're wearing no shoes at all because you know where your big toe is, and you can feel exactly where to place it on even the thinnest of edges. If your foot slips off a hold you 100% cannot blame the shoe – it's definitely bad footwork that caused the problem!
This is also great for smearing and pockets, however it's not as downturned on the toe as some other high-end sport climbing shoes.